New Year Message From Jumia Ghana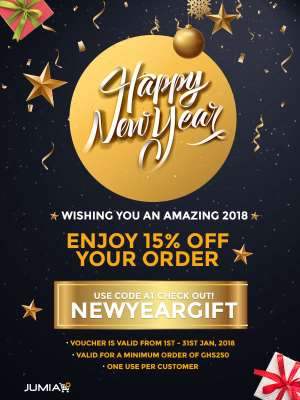 New Year birth forth new roads to success and provides you with opportunities to give wings to your unfulfilled desires. Jumia Ghana would like to wish all its cherish customers and the general public a Happy and prosperous New year.
As part of a new year package for all customers, Jumia is giving 15% off on all orders. Valid from January 1st to January 31st 2018, customers can use this voucher code (NEWYEARGIFT) at check out when placing their orders online.
Valid for a minimum order of GHs250, this voucher code is one use per customer. Meaning that you can only use the voucher code once. Jumia Ghana says 'thank you for giving us the opportunity to serve you better. May your dreams come true with the rise of another beautiful year.'
'The entry of another new year comes with a whole new changes but what customers need not have to change is the formula of hard work for getting good results.' -Jumia
Jumia Ghana says it is ready to 'work with top care and priority' this year, when it comes to meeting customers' needs and wants. It says customers should expect bigger and better service delivery with an exceptional discounts raining seasons this year.
Work hard and keep perseverance to achieve desired success.
Happy and Prosperous New year! –JUMIA GHANA