Show much love and care to the needy - NPP to Christians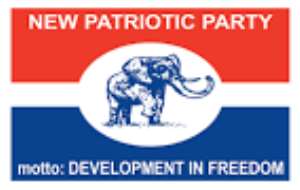 The ruling New Patriotic Party (NPP), has extended its best wishes and Goodwill to Christians on Christmas celebration .
A statement signed by its Acting General Secretary, John Boadu indicated that Christians should use the occasion to show much love and care to the needy in diverse ways in order to give real meaning to the essence of Christmas.
According to the statement, "It is however worthy of note that the government of His Excellency President Akufo-Addo has done a lot to ensure that we have an incident-free yuletide... same can also be said in the area of economic stability so that we can all enjoy this season".
Below is the full statement
*NPP WISHES CHRISTIANS A HAPPY X'MAS*

As Christians in Ghana and across the globe climax the birth of Christ, the NPP is pleased to wish them a happy and joyous celebration. The birth of Jesus Christ, undoubtedly, marks an important milestone on the Christian calendar because of its great significance.

It is for this reason that the commemoration of this day here in Ghana and elsewhere, is often characterized by not only deep supplication to our Maker but also merrymaking, symbolic decorations, holidaying, social gatherings and almsgiving. Christmas is a season of love and care especially for the needy in society. These were the virtues that Christ personified.

And so, as we commemorate this day, the NPP calls on all and sundry particularly people who subscribe to the Christian faith, to show much love and care to the needy in diverse ways in order to give real meaning to the essence of Christmas. Christianity teaches us that today, is not only a day for celebration and so, we shouldn't forget of the plight of our "underprivileged brothers and sisters".

Again, it is a truism that an occasion like this, unfortunately comes with rising cases of road accidents, crime rates among other unpleasant spectacles. While calling on the police and relevant authorities to step up their efforts at forestalling such occurrences, we also think that, as individual citizens, we should not compromise on our personal security.

It is however worthy of note that the government of His Excellency President Akufo-Addo has done a lot to ensure that we have an incident-free yuletide. Same can also be said in the area of economic stability so that we can all enjoy this season.

Once again MERRY CHRISTMAS to all.

Thank you.

JOHN BOADU
General Secretary (Ag)

Source: Daniel Kaku
Daniel Kaku
Western Regional ContributorPage: DanielKaku