Council For Local Gov't Institute Inaugurated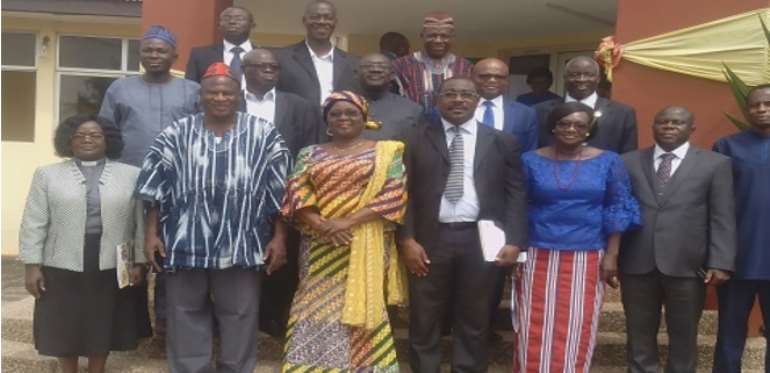 A new Council for the Institute of Local Government Studies [ILGS], has been inaugurated with a call on the members to work assiduously to justify the hope reposed in them by the President.
Inaugurating the Council in Accra on Wednesday, Minister for Local Government and Rural Development, Hajia Halima Mahama charged members of the Council to rise above challenges bedeviling the Institute and provide support for the overall policy direction of the Institute as well as find innovative ways of addressing the challenges.
Among the challenges the Institute is grappling with along the years is inadequate funding as the Institute is not under government's subvention and therefore the Minister tasked the Council to find innovative ways of sourcing for adequate funding to run the Institute.
Hajia Halima Mahama noted that the Institute of Local Government Studies is a strategic government partner and as such must play a strategic role and function in the growth and development agenda of government.
To that end, the Local Government Minister tasked the newly inaugurated Council to constantly review its objectives and re-position the Institute in making it more relevant in achieving the felt needs of the people.
She reminded the Council members that they have been carefully selected from diverse backgrounds with different experience and expertise and therefore she expects them to bring their experience and expertise to fore to propel the Institute to an enviable height.
'' Your membership of the Council is to tap into your expertise and experiences to ensure that management upholds high standards in the performance of their duties, so that the Institute stays relevant and competitive'' she added.
The Minister assured the Council chaired by Naba Moses Abaare Appiah IV, of her full support and cooperation in her capacity as a supervisory Minister and also urged them to collaborate with all Metropolitan, Municipal and District Assemblies [MMDAs] in the discharge of their mandate to enhance governance at the local level.
The ILGS, the Minister noted is the only body in Ghana devoted to building the capacity of the local government sector and therefore the Institute must identify the skills gaps and design appropriate courses to address these as an urgent matter.
On his part, the Chairman for the new Council, Naba Moses Abaare Appiah IV , thanked President Nana Addo Danquah Akufo-Addo for selecting them to work on the council. He promised that they will work effectively to justify the confident reposed in them by the President and his team.
He assured that by the end of their four year tenure they will do their best as a Council to reshape and reposition the ILGS to ensure the realization of its objectives.
We shall also collaborate with the MMDAs nationwide in our bid to ensure that we succeed in delivering the expectation of the President and Ghanaians at large.