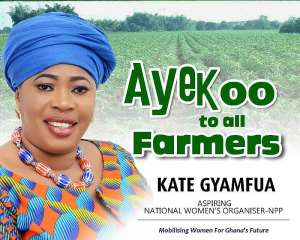 On this special day, I obviously cannot ignore writing to express my gratitude towards your enormous contribution to the pot of every woman and our dear mother Ghana.
I wish the hardworking farmers and fishermen of our country well on this special day.
Your toils and sweat have sustained this Nation.
Your contribution to the Nation's economic growth is unmatched.
Your activities have given employment to many Ghanaians.
Today, we celebrate and give you the deserved recognition. On behalf of all women, I wish to say a big thank you for without farmers and fishermen we could not have been Good Mothers.
Our government led by HE President Nana Addo-Dankwa Akufo-Addo has shown that agriculture will be leading the way and introduction of some fantastic policies such as the one district one factory, cocoa farmers pension scheme, one warehouse project, the planting for food and jobs, subsidising fertilizers, youth in cocoa, free maize seedlings*, etc are all policies that will benefit our hardworking farmers and fishermen and improve thier livelihood.
I Say Ayekoo to Fishermen and Farmers
HAPPY FARMERS And FISHERMEN DAY
..Signed....
Kate Gyamfua
NPP National Women's Organizer Hopeful
New Patriotic Party (NPP)