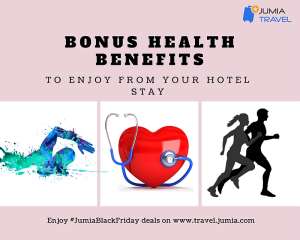 For centuries unending, we have grown to believe that hotels are fancy buildings where rich people go to sleep, eat and have high level meetings. Throw in the sex factor, conferences and other events then you are sure to have the general misconception about what hotels have to offer.
Even with innovation and technology impacting the hospitality sector, many people still fail to acknowledge that hotels have more to offer than just a place of rest and luxurious leisure. Why would you book a hotel, pay as much as your paid for your flight ticket to just sleep, wake up and go?. Although a few people may also argue that not all hotels have the facilities to provide certain services, a modern hotel will definately have at least one facility or function that provides guests with great health benefits. Jumia Travel, Africa's leading online travel agents and hospitality giants, deep dives into some bonus health benefits that guests can enjoy from their hotel stay.
Firstly, we look at the first meal of the day. Breakfast as is popularly called remains a constant feature in all hotels and although some hotels serve it at a charge, many top hotels have it as a complementary service. The health benefits of good breakfast cannot be overemphasized. Being the first meal of the day, it energizes you for the busy day ahead. It also serves good sources of important nutrients such as calcium, iron and B vitamins as well as protein and fibre. The body needs these essential nutrients to function properly. If you are a busy person and may be living on snacks the whole day, it is always important to eat breakfast. Never ignore it, breakfast when complementary is a bonus health benefit from your hotel stay. Make sure you enjoy it.
When we talk about health and fitness these days, one word usually comes to mind, GYM!!! Nearly everyone enters the gym whether they are resident or not to keep fit. Some go for stomach training, others for weight loss and some for body shape enhancements. No matter your need, a gym always comes in handy. Why would you stay in a hotel for weeks and check out the same way you came in? You must definitely be a tad fitter than you came in. With all the modern equipment and machines at your disposal, you should enjoy the workouts and fitness sessions for free. A lot more out there crave your opportunity, don't waste it. Use the gym well well!!!
Whether true or not, recent statistics indicate that nearly 4 billion people cannot swim. This represents more than 50% of the world's population. Maybe , this is as a result of our generally acceptance that swimming is not a necessity but a luxury. Even our failure to connect swimming to healthy living may be a contributing factor. In the past, only the rich had access to swimming pools and only those who lived close to beaches could swim. These days, with great hotels widespread, a swimming pool may just be a stone throw away. Get yourself in that pool now and enjoy the coolness and relaxation coupled with the many health benefits. What benefits are we even making noise about? Swimming keeps improves heart functionality and takes some of the impact stress off your body. It builds endurance, muscle strength and cardiovascular fitness.Swimming also helps maintain a healthy weight, healthy heart and lungs whiles it tones muscles and builds strength. Why wake up and go when you can swim before you go?
The Spa! Another one which we always classify as a luxury activity. ''I went to the spa'' or ''i need a massage'' is often associated with luxury and riches. Everyone needs a massage at some point. What does it do? It is great for both the mind and body. Massages help you relax, takes off stress and keeps you fit. Studies have shown that people who visit the spa often have less health issues, are more productive and energetic. Many people who stay in hotels often bypass the spa. They hardly even ask what goes on there. The irony is that, many people who visit the spa rather do not stay there. It's time to change. When you stay in a hotel, use the spa and get yourself refreshed. You may have to pay a little extra in some cases but it's worth every coin.
Last but not the least, we can talk about sporting or recreational activities. Many hotels have great facilities that cater for both indoor and outdoor sports. A lawn tennis court, basketball court, golf course, badminton, table tennis or video gaming area is more likely to be found in a modern hotel or resort. This should keep you in shape, fit and strong. Keep yourself active while you have some fun competing with others. If you are not fit enough to play, watching others play generates some sort of excitement and fun.
When all is said and done, you will need to make the most of that hotel stay. You shouldn't pay high rates and just use the bed in a hotel. There are many health benefits to be derived from your stay. Call that a bonus. If you are fortunate to book your stay during this #BlackFriday season, then BINGO!!! You win twice.
Credit : Bennet Otoo, Jumia Travel