October 12, 2017
|
South Africa
Industry Experts Join Thomson Reuters To Turn Disruption Into Opportunity
...Collective power drives Africa's success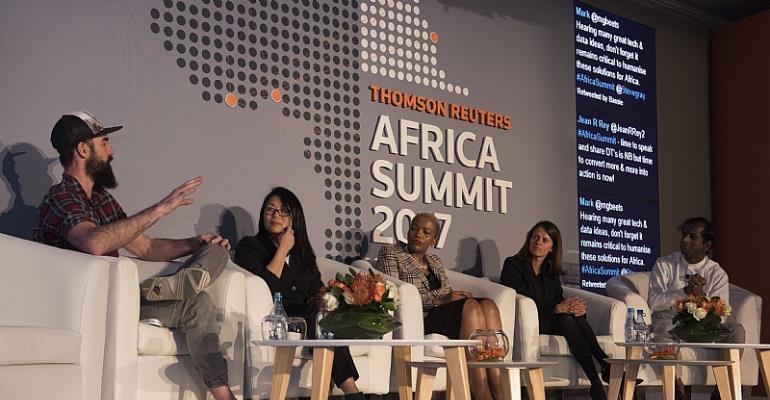 Cape Town, South Africa; 12 October 2017 – The Thomson Reuters 6th annual Africa Summit kicked off today with Sneha Shah, Managing Director, Africa, Thomson Reuters, addressing partners and delegates with the sentiment that collective power drives Africa's success. "We believe that we are the answer to address the existing challenges that businesses face and by working together and understanding our part collectively, I believe it will enable us to achieve Africa's success," she noted.
This sentiment was shared by Ken Olisa, Board Member, Thomson Reuters, who presented the opening keynote and explained that today every individual is either a disruptor or a disruptee. "IT is disrupting and transforming every single industry. Even the technology industry is being disrupted. We are moving from a world where technology was its own industry into a world where technology is critical in every industry," he pointed out.
Tackling disruption
Olisa highlighted the impact of disruption which is now forcing companies to implement and embrace new technologies. "Disruptive IT is leading the evolution towards a digitally enhanced business-world. As entrepreneurs move to transform the world, they need the help and support of corporate and enterprises who can build a sound differential gear and solid support systems for incubators".
This raised the question of transitioning from traditional business models, challenging the status quo and tackling disruption.
During the first panel titled: "Africa 4.0 on Turning Disruption Into Opportunity", Lee Naik, CEO, TransUnion, noted that 50 billion devices will be globally connected in 10 years and while Africa is still lagging when it comes to accelerating connectivity, our real problem in Africa is connecting with rural communities.
Naik pointed out that the fabric of communication is data and that we are shifting to automation and robotics. "Jobs will continue to be automated and that is quite scary. That said, Robotic Process Automation is becoming a trend today. We need to find a way to be more efficient with the emergence of these new technologies," he explained.
As a result, data is being looked at to predict behaviour and adjust strategies. What's more digital money is key for Africa. "We have a trust issue in Africa. Digital payments proved to be a key solution. The question is about how to define a new way of working to see digital currency as a new foundation of trust."
Raising questions on whether value is about money, growth or outcome, he stressed that the ability to harness data is so powerful and defines real value and impact. "Africa should be open to collaborating, finding solutions and embracing change. Corporates need to ask themselves what is unique about their market proposition and eventually define the challenges they have to solve in Africa," Naik said.
New business models – new opportunities
The theme of new models progressed further when Dr. Tim Jones, Programme Director, Future Agenda, spoke about how developing new business models will play in Africa given the new technology trends such as artificial intelligence and machine learning. "Everything today is all about recognising patterns. The reality however, is about what could be done better. A supportive regulatory environment is a key factor in exhibiting innovation in Africa. More transparency will be the big enabler of change in Africa. The technology transformation will promote acceptance of digital identities as we start connecting to be part of a larger system," Jones said.
Digital transformation means innovation and looking at opportunity and Saori Fotenos, Platform Proposition and Partner Marketplace, Finance and Risk, Thomson Reuters reiterated this on the panel when she spoke on the need of cross-platform innovation in the space of identity verification.
The opportunity of technology tools is immense especially in identify verification. Thula Ngonyama, Founding Member, Africa Data Science Association, noted that corporates need to revisit their perspective of innovation. "Changing the eco-system will help us define opportunities. Data is about making a difference and ensuring they are more intuitive. Corporations in Africa should leverage data and open platforms to achieve an innovative eco-system," Ngonyama noted.
Let's talk access
Steve Gray, CEO, Makerspace, on the other hand explained that Africa needs to see real solutions being addressed through access to knowledge. "Achieving impact in technology should not depend on external knowledge. Many of our problems have been solved, but not widely distributed yet and that's why we need to democratise the means for production," he said. "In fact, the questions is not only about how we empower the revolution but how to keep ahead of it. Keeping information to ourselves is not working anymore. As corporations, we need to share more information, learn from each other, add value and leverage our collective power."
Knight Ganje, Founder and Director, H&G Advertising, spoke about the importance of education programmes during the 'Changing Perceptions of Africa' panel which tackled how the continent's young start-ups are changing the game. He pointed out that new educational initiatives should be rolled out to spread awareness about business cycles. "Although financing is important, the focus is really about a sound idea. Business leaders should have a voice and need to take part in a wider conversation about supporting entrepreneurs."
Tyrone Adams, Co-Founder and Lead Engineer, Skywalk Innovations, agreed - indicating that while entrepreneurs are already supported, more should be done in this space. "As start-ups, we feel that we need to build something big and there is a lot of space to innovate and collaborate. The support system must change and should put more attention on start-ups with a clear long-term vision. Shaping the young minds is the most critical part of being prepared," he noted.
High impact entrepreneurship should be coupled with research and development explained Rorisang Tshabalala, CEO, Chapter One Innovation. He indicated that defining a clear collaborative framework will help fundamentally change the way we do business. "Corporates and governments have to engage and educate the youth of today to take the rightful positions in the future. They have to enable them to move to the next level," he said.
Prince Nwadeyi, Chief Executive Officer, iSpani Group, explained how accessibility to market is key in building the infrastructure of organisations. "Businesses should empower young people to make decisions. This will eventually translate into tangible impact," he said. "Are we positioning people to take advantage of emerging technologies? The answer is no and institutions need to invest more capital in people and mitigate the impact of not being prepared when the technology arrives."
Sonya Kuhnel, Managing Director, Blockchain Academy, took the discussion further, speaking about financial inclusion and how the key challenge in Africa is still about getting unbanked people to connect. "Blockchain technology is taking off across the world, but still lagging here in Africa. Incubators are not yet able to innovate and accelerate the implementation of this technology. Education is key for Blockchain. Innovation and acceleration programmes contributed to spreading awareness and now more collaboration is needed to move on to the implementation stage," Kuhnel explained.
Innovate or disrupt
Speaking about the impact of innovation and disruption, Ran Neu-Ner, joint Chief Executive Officer, The Creative Counsel, said that something is happening across industries. "We always had innovation in the past and now we have disruption. Innovation refers to bettering an existing product or service, while disruption is about changing the industry's completive patterns. You are likely to be disrupted if you are pitching more frequently for your business, competing more frequently and if your consumers are switching between you and your competitors. Disruption is not about competing with big enterprises anymore," he said.
However, innovation is not enough. "If you are disrupted, then you are never coming back. If you are incumbents, then you need to have all of this in place. If you are a disruptor, then you have to disrupt one of those five points," Neu-Ner added.
Neu-Ner indicated that companies face several challenges on how to connect with consumers. "There are few ways to do that. The first one is data which is today's real currency. Companies now must start thinking about being big data organisations. Technology is also a critical element. Today, companies can give consumers what they want before they ask for it through technology. Products, route to market and finally communications are crucial elements in connecting with consumers," he noted.
"Innovation is about experimentation. Thomson Reuters is committed to partnering and experimenting with our customers and other thought leaders to harness disruption, turn risk into opportunity and future-proof business. The importance of true partnership and co-creation in building solutions of the future cannot be underestimated," concludes Shah.