13 September 2017
|
Health
NPP Loyal Ladies To Hold Health Screening In Nyinahin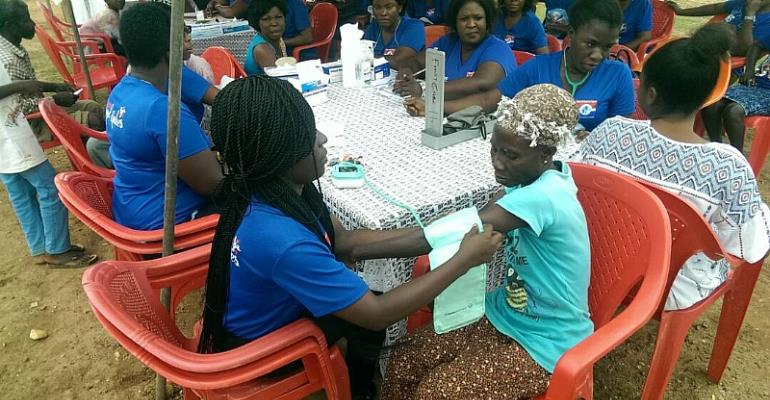 About 1,000 people at Nyinahin in the Atwima Mponua District of the Ashanti Region have benefitted from a free health screening exercise.
It was organised by the Loyal Ladies, a splinter group in the ruling New Patriotic Party (NPP), in collaboration with Kwadwo Tweneboah Bonsu, a top NPP member.
The beneficiaries were screened by selected medical experts in diabetes, malaria, eye and ear, during the one-day highly patronised programme.
Speaking with DAILY GUIDE, Mr Tweneboah Bonsu expressed sadness about how poor people in the area struggle to seek proper medical care.
In line with this, he said he decided to team up with the NPP Loyal Ladies to organise the free screening exercise to boost the health status of the people.
Mr Tweneboah Bonsu stated that the health screening exercise would not be a nine-day wonder, assuring that the laudable event would be replicated soon.
He disclosed that malaria, ear and eye defects are the most common ailments in Nyinahin and its nearby areas, calling for government's intervention.
Mr Tweneboah Bonsu, who is the CEO of Bonsu Logistics, bemoaned that there is congestion at the maternity ward at the Nyinahin Government Hospital.
According to him, some of the patients are forced to sleep on the floor due to lack of beds, appealing to government to supply beds to the hospital.
The Ashanti Regional Captain of Loyal Ladies, Martha Koduah, reiterated that "health is wealth", hinting that her group is poised to contribute to boost the health of Ghanaians.
She said the Loyal Ladies recently organised similar health screening exercises at Kasoa in the Central Region and Kwadaso in the Ashanti Region.
Martha Koduah stated that her group feels proud to contribute their quota in making Ghanaians stay healthy and strong to help in national growth.