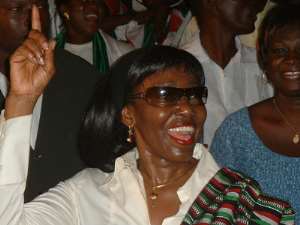 The former First lady, Mrs. Nana Konadu Agyeman Rawlings, has turned down an invitation to her by the Criminal Investigation Department (CID) in relation to a case involving Caridem versus Divestiture Implementation Committee (DIC) and the Auditor-General's Department.
Giving reasons why she could not appear before the CID, Nana Konadu averred that the actions of the CID would not only amount to interference with the judicial process to her detriment and prejudice, but also amount to contempt since the issues raised by the CID were pending before court.
The former first lady, who is also the president of the 31st December Women's Movement, was to report to the Deputy Director/CID, Mr. Patrick K. Ampewuah last Wednesday.
A letter dated June 6, 2005 and signed by the CID, captioned Re-Caridem Vrs D.I.C Auditor-General, (A-G) copied to Mrs. Rawlings, said, "The CID is investigating an allegation of defrauding and forgery reported by the Auditor-General's Department.
"You are kindly requested to report to the Deputy Director/CID on Wednesday 8/06/05 at 0900 hours to assist in the investigation."
Responding to the request of the CID, counsels for Nana Konadu, Mr. Tony Lithur and Co. said they were surprised at the invitation, saying, "Our client is the Chairman of the Directors of Caridem Development Company Limited (Caridem) and the President of the 31st December Women's Movement, the movement, which owns Caridem.
"Caridem has sued both DIC and the Auditor-General, in a civil suit which is currently pending in the High Court, Accra .Our client is a potential witness in the said suit."
The counsel noted that his client had also informed them that nowhere in the correspondences that had been exchanged between the Auditor General and Caridem and the Movement.
According to Mr. Tony Lithur, in seeking to investigate a matter that is pending before a civil court "you would be substituting your authority for the judge's and usurping his absolute authority to hear and determine the matter and the rights of parties before him." Mr. Lithur, who urged the CID to get all the information they need or documents about the transaction involving Nana Konadu, as the rules of the court allow them through his solicitors.
He said, "We are instructed to say further that the Auditor –General would appear to have some fascination for fixation on our client and the organizations she heads."