17 July 2017
|
Opinion/Feature
Sixty Years Of Independence; Schools Under Trees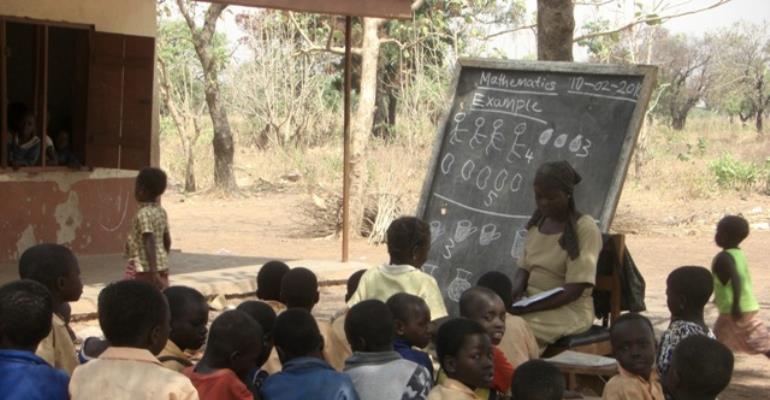 The reggae legend, Bob Nesta Marley of blessed memory ever said in of his songs that if you have knowledge through education, no one can take it away from you or steal it from you. It is often times said that education makes a woman more attractive and beautiful as well as men more gentlemanly and respectable. Many countries lay a great emphasis on education for the people. As a result, lessons or class lessons throughout the world are held in classrooms as this ensures sitting convenience, comfort and total concentration when lessons are ongoing. Tis is however not the case in or dear nation Ghana.
With all the fuss about educational reforms in the country such as provision of free basic education, distribution of free exercise books as well as free school uniforms and the introduction of Information And Communication Technology as a core subject so that Ghanaians can produce graduates who'll be ready to to take advantage of the opportunities offered by this computer age to accelerate development, one would have taught that at our sixty years of independence, we shouldn't have been discussing "Schools under trees" or schools under trees should be a topical issue we should be battling with as a nation Scores and scores of under tree schools still abound in the country. Our leaders have failed woefully in combating the under tree schools in the country. In all the ten regions across the country, we still have some basic schools that still enjoy lessons under trees.
We all know that learning under trees breeds a lot of problems, there are numerous of this problems that hampers academic work. For instance, when it drizzles, these under tree schools have to end the day in order to prevent the lesson notes as well as the books of the people from becoming wet.There are some instances where teachers have to close the pupils immediately the clouds starts forming... There are certain times where snakes fall from the trees and disrupt the lessons that's on going. This is because with the teachers and pupils will have to flee for their lives.
For the unfortunate pupils who study under mango trees, their teachers even finds it difficult in teaching them especially when the mangoes are riped. There are times where mangoes fall onto the desks of these pupils, sometimes it falls unto their heads and others.
During the harmattan season, lots of problems are being created for the students because that's a combination of dust and cold. Books and lesson notes of teachers are normally blown off by winds during lesson hours and this sometimes deter teachers front teaching. What i have observed is that most of the schools under trees are mostly found in the remote areas and this is not fair.
They also deserve better forms of education just like those in the urban areas. It is worrying to note that education in terms of availability and quality of school equipment and infrastructure as well as quality of tuition is becoming a more and more polarized issue leading to the emergence of a somewhat "Johannesburg" and more"soweto " schools. While a not us being said about improving the quality education, nothing extraordinary is been done to bridge the gap between rural and urban areas in terms of education. There is no way a subject like ICT can benefit the rural areas where lessons are being held under trees... Where do we want them to connect the electrical cables that will enhance the teaching and learning of ICT?.
This is the time people like Hon. Mattew Opoku Prempeh and all those who have a stand in our educational system, the stakeholders involved as well as all and sundry should come on board and help eliminate the schools under trees. Let's help to eliminate it once and for all... "Under tree schools" should be a thing of the past because it is creating a gap between the students from the urban areas abduction those from the rural areas.. There are some pupils from the urban areas who can perform even better than those in the urban areas.......
God Bless Us All.
Kwame Asante
Techiman.