Minister briefs Parliament on Kintampo disaster report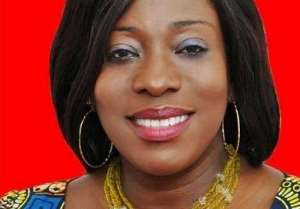 Accra, June 6 GNA - Mrs Catherine Afeku, Minister of Tourism, Culture and Creative Arts, says the report on the Kintampo Waterfalls disaster which claimed 20 lives and injured 21 others has been presented to her ministry.
She said the report concluded that although the incident was an Act of God, a number of remote and immediate causes were identified as being instrumental to the accident and the response following the disaster.
These include lack of focus on public safety responsibilities, lack of adequate training and supervision of personnel, poor environmental management factors and impact of encroachers on the area which has exposed the soil to major erosion and made trees weak and vulnerable.
Mrs Afeku made this known when she appeared before Parliament to answer to questions from Mr Samuel Okudzeto Ablakwa, Member of Parliament for North Tongu.
It would be recalled that the Speaker of Parliament, Professor Aaron Mike Oquaye, directed the appropriate parliamentary committees to carry out an investigation into the Kintampo Waterfall tragedy when 21 students had gone to the place for an excursion on March 19.
Most of the students who lost their lives were from the Wenchi Methodist SHS and the University for Energy and Natural Resources in Sunyani.
Mrs Afeku also explained to the House that after the tragic accident various safety measures were instituted at the facility.
Besides, safety audit were also to be conducted on six other tourist sites across the country.
She said the safety audit on these additional sites was currently ongoing by a cross functional team comprising the Ghana Tourism Authority (GTA), military engineers from the 48 Engineers Regiment, National Disaster Management Organisation, Ghana Forestry Commission among others.
She said to ensure full recovery and improvements in service delivery at the Kintampo waterfalls the team made a number of recommendations.
These include an immediate afforestation exercise to improve the diversity of flora, activities to check erosion, a review of the management structure, recruitment and training enhancements and introduction of clearly defined public safety management and emergency preparedness and coordination.
The rest of the recommendation are removal of loose rocks and those in potentially precarious positions at various stages of the falls, creation of separate entries and exits to different stages especially stage three of the falls, re-engineering of the staircase and re-engineering of the entrance from the main Techiman Highway.
She said with the recommendations by the committee set up to investigate the matter was being implemented and it was expected that the work would be finalised for re-opening of the facility by September 1, 2017.
Mrs Afeku assured the House that her ministry together with GTA had put in place plans to ensure all tourist sites in the country were safe.
She said some of the measures include completion and implementation of all specific sites audits and recommendation, public liability Insurance for all tour sites was being pushed as mandatory requirement for all attractions.
She said a new legislative instrument was being worked on to bring all tour attractions under GTA licensing and registration regime.
The rest of the measure are a new management regime involving District, Municipal and Metropolitan assemblies, traditional authorities and GTA are being put in place to oversee these sites and ensure that there are re-investments and maintenance becomes an ongoing feature, ongoing training of tour guides and capacity building for workers at all tour sites, workers on health and safety best practices as well as improved access roads to all tourism sites.
GNA
By Christopher Arko, GNA