Role Model Africa Set To Host Women In Leadership And Entrepreneurship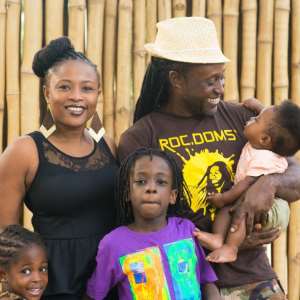 The Corporate dialogue for Role Model Africa is set to take place on Sunday June 18 to mark the event for the second quarter of the year. Role Model Africa is a mentoring platform designed for the African Youth who want to replicate the success of the success of their business in other African countries and beyond. The main feature of Role Model Africa is a Corporate Dialogue that engages an African personality whose contributions on the continent and beyond are worthy of emulation. The upcoming edition of the Corporate dialogue is set to host the Manager of the music group VVIP; Dr. Zilla Limann, Global Training Consultant ; Edem Adzaho and Financial Consultant; Amina Sammo.
The Corporate Dialogue takes the posture of an open conversation where the Role Model shares insights in a story telling format. Dr. Zilla Limann will be hosted on the platform which has previously been honoured by personalities including; Dr. Samuel Onwona (World Bank), Reggie Rockstone (Hip life), Michael Okyere-Darko (Obrafour), Prince Kofi Amoabeng (UT Group), Bishop Gideon Titi-Ofei (Pleasant Place Parish) and Dr. Mrs. Ellen Hagan (L'aine Services).
Dr. Zilla Limann is the sixth child of Ghana's former President, Dr. Hilla Limann. The wife of the legendary Hiplife originator Reggie Rockstone, will be sharing insights in a story telling format at the Corporate Dialogue of Role Model Africa at the African Regent Hotel in Accra on Sunday 18th June. The medical doctor by profession doubles as an entrepreneur and owns and manages the Rockstone's Office together with her husband. Zilla serves as the manager for Reggie Rockstone and as well the manager for the award-winning group VVIP.
A product of Soul Clinic School and Achimota School, Dr. Zilla Limann is a graduate from the University of Ghana Medical School where she studied medicine to become a medical doctor. Her passion to see systems work effectively and to implement strategies will be blended with how she innovatively manages an entertainment centre, a music group and the career of her husband as she addresses passionate audience at Role Model Africa.
Dubbed 'She Magnate' the upcoming edition of the Corporate Dialogue has been tailored towards mentoring women and young ladies in the areas of Leadership, Entrepreneurship and Innovation. Dr. Zilla Limann will be joined by two women; Edem Adzaho and Amina Sammo who will help set the theme into perspective.
Edem Adzaho is a multiple award-winning international training consultant, a global graduate Coach and author of 2 books. Edem has worked with over 60 nationalities, visited 42 countries, lived in 3 and worked in 24.
She founded the Global Graduate Academy and still manages the award winning Human Capacity Development Company, SPEC Consult Limited, where she has coached over 10, 000 young Africans on world-class employable skills, entrepreneurship, leadership and accessing scholarship opportunities. Her past trainees run their own business or work for Aljazeera, Euro news, Diageo, PWC, Bank of America, Nestle and most of the leading organisations in Ghana. Others have gained scholarships to prestigious institutions worldwide. Edem is also an intercultural fluency master trainer and an external consultant for British Council. She is also travel blogger, and YouTuber. Edem will be bring home her experiences to help the group of young women at the Corporate Dialogue to be inspired to even do better.
The platform will also host financial Consultant, Amina Sammo. Amina who specialises in personal, SME's, group financial planning strategies and book keeping, is a former Executive Director and Business Development Manager of Wi Tech Group; a group of companies that ventures into Energy, Properties, IT Supplies, Travel and Tour, Insurance Brokerage and Printing.
Amina has rich experiences working in various capacities at CAL Bank, a universal Bank in Ghana over a period of 9 years as a Relationship Manager, Asset and Liability Manager and eventually exiting the bank in 2015 as a Branch Manager. The Fellow of the Association of Certified Charted Accountants (ACCA), a recognized member of the ACCA-Ghana Office, worked for about 2 years as the head of Project Finance and Administration on the EQUALL/SFL/USAID project deploying educational solutions in 3 Northern Regions in Ghana.
With over 20 years wealth of experience, Amina will address the passionate audience at the Corporate Dialogue of Role Model Africa.
The convener and co-creator for the platform, Mr. Samuel Agyeman-Prempeh mentions that the event which is scheduled to take place at 3pm will observe audiences from across Africa. The mentoring activist and documentary film maker believes that 'She Magnate' will mark the best edition of the Corporate Dialogue since its inception.
As has been characteristic of the platform, guests are expected to be seated 30 minutes ahead of the event.
Role Model Africa is an initiative of INVENTS and PM Media. Since its creation in September 2015, the project has received mentions on GTV (Ghana), Daily Graphic (Ghana), Ghana Business and Finance Magazine (Ghana), Daily Sun Newspaper (Nigeria) and Africa Rizing (an Offshoot of Voice of America) to mention a few.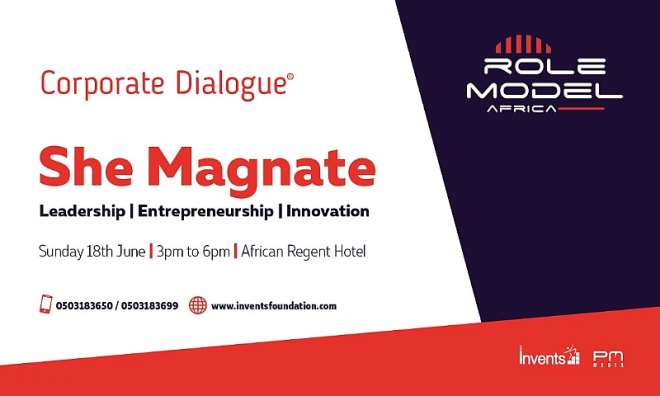 Img-20170605-wa0006