Political Militias, The Catalyst For A Banana Republic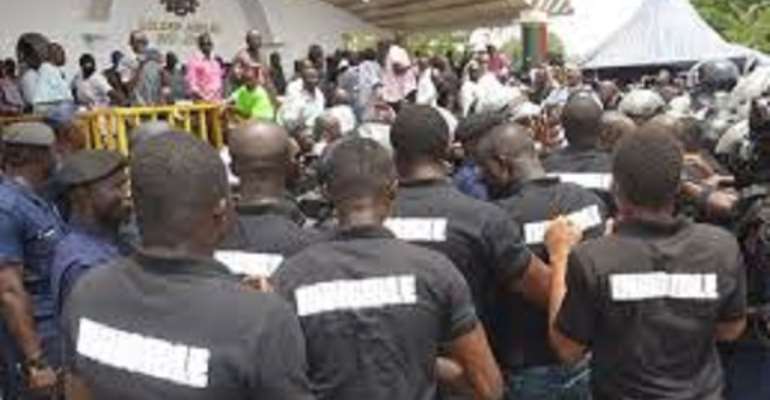 Growing up, I saw the existence of community militia. They were very useful in ensuring moral sanity in our neighborhood. Interestingly, over time ,the Apostles of morality which they were deemed to be couldn't stand the test of time. They soon became culprits of what they stood against thereby denying them the moral rights to continue with their activities and subsequently sending them into oblivion.
Upon out-living their usefulness in society, their services were employed by echelons of society to safeguard their lands in an era of improper land management system. By which time they have metamorphosized into machete wielding thugs who torment innocent masons and artisans but they are always left the hook because of how powerful their employers are.
Welcome to the new paradigm of the over politically powerful militia of vigilante squads namely Invisible forces, Azoka boys, the Bolgatanga Bull dogs and the ever trending Delta force whose services are employed by the two biggest political parties, the NPP and the NDC to provide security for ballot boxes and for their personal safety in exchange with juicy recruitment into state security agencies without recourse to academic qualifications especially national security should their party win power. This is evident in the overly political nature of national security operatives.
As the saying goes, the farmer who brings home ant-infested firewood should not complain when lizards start visiting(chenua Achebe). The delta forces have dented the democratic credentials of their pay masters and financiers. The monsters they created have soon turn against their creators by challenging the authority of the president on his appointments and attacking the courts which remain our last resort in a country which is fast becoming a banana republic. So with extreme trepidation, their pay masters have no other options than to conspicuously hold their tongues in cowardice and condemn in no uncertain terms this anarchism.
The politicos continuous distrust in state security in times of elections especially when in opposition stems from the political shenanigans they subject these agencies to when they are in power. The appointment of security heads deny them of institutional independence, A weakness which provides fertile grounds for political militia groups to strive. Very important and at the same time dangerous is the frank admission of their existence by political parties and the attempt to legalize their operations in the near past.
Today, the NPP are at the receiving end of public backlash and the NDC which is in comfortable lead has quickly put on the cloak of innocence and matched it with their politically partisan lenses which surely has narrowed the aperture through which this issue must be looked at and interrogated, joined discerning Ghanaians to troll, chastise and bustardize their opponents. They wish elections was just some three days away so they could have scored some cheap political points to win votes. Even though similar occurances in the past were justified, no arrests were made and the culprits were always made to leave the hook un-punished. This time around, Should the verdict in this shambolic act be custodial sentence, any attempt to open a book of petition for the president to use executive power to set them free will not be countenanced by discerning citizens.
Security agencies more especially the police should have the institutional indepence to enforce the law without any fear or favour to weed out Vigilante groups because they remain a threat to our national security. They must be disbanded with all seriousness and together with their financiers, made to face the full regours of the law.
Seth Panyin Boamah
[email protected]
Engineer,Writer and Socio-Political Activist