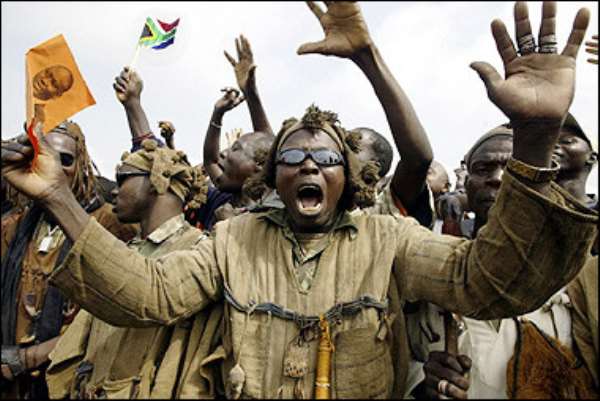 A group of rebels who are controlling parts of Northern Cote d'Ivoire are alleged to have invaded Saruu, a village in north-western Ghana and raided the entire community on 12 March this year in search of arms and weapons.
The group which was led by its leader, Sgt Morro Quatarra succeeded in kidnapping the chief of the village, locked him up in a rebel-held cell in Cote d'Ivoire, shot one person and looted their belongings.
A Ghanaian journalist, Anas Aremeyaw Anas, who disguised himself and posed as the "Prince of Walata" under Abutalib Ibn Mohammed visited the rebel leader, Sgt Morro Quatarra who confirmed the invasion by his faction on the Ghanaian village, which is close to the Ivorian border.
Anas who reports for the Crusading Guide newspaper wondered if the nation is safe since none of the security agencies along the border knew of this invasion and the group's subsequent abduction of the chief, who was beaten up severely before being whisked out to the rebel camp in Cote d'Ivoire. He told PeaceFM this morning on the Kokrokoo Morning show hosted by Kwame Sefa Kayi that the alleged invasion was carried out with the assistance of a serving Ghanaian Army Officer, Captain Moro Sanda, who is the Head of the United Nations Mission in Cote d'Ivoire.
According to Anas, Sgt Sanda admitted in a conversation with Sgt Quatarra that he was part of the group that invaded the village in search for weapons and small arms, which were believed to be heaped in that village
Meanwhile the Minister of Defence, Dr. Kwame Addo Kufuor has assured Ghanaians that security in that part of the country is in firm control and has called for calm. He said his ministry is meeting with the Chief of Defence Staff today and he will later visit the village of Saruu to assess the situation and take the necessary action.