Professional Car Washer to Speak at RoleModelAfrica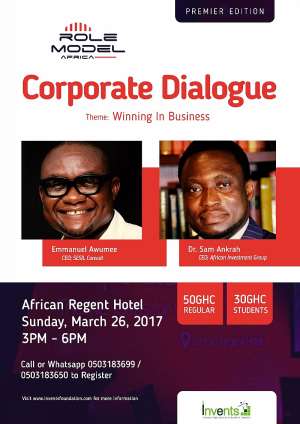 For over a decade now, Ghanaian national, Emmanuel Awumee, a Car Care Consultant has distinguished himself as a specialist in Car Detailing and Reconditioning.
Emmanuel Awumee has been the best at what he does and this has merited his company the privilege to Detailing Presidential vehicles of a number of Presidential administrations in Ghana.
His company SESIL CONSULT which specializes in Interior and Exterior maintenance of vehicles, has a collaborative arrangement with TOTAL PETROLEUM in Ghana and Partnership arrangements in Cote D'Ivoire and also coming up in Nigeria and Sierra Leone.
Emmanuel will be making his debut appearance on the Corporate Dialogue of the renowned mentoring platform Role Model Africa, this March.
Since its creation in 2015,Role Model Africa has received mention on GTV (Ghana), Business Television Africa (Ghana), Ghana Business and Finance Magazine (Ghana), Daily Graphic Newspaper (Ghana), Daily Sun Newspaper (Nigeria) and Africa Rizing (an Offshoot of Voice of America)
The revered platform has over the years attracted illustrious Role Models to share their stories in an open dialogue. Emmanuel Awumee joins the Hall of Fame of Role Models, being in the company of Dr. Samuel Onwona (Former World Bank Official), Prince Kofi Amoabeng (UT Bank), Michael Okyere Darko (Obrafour), Bishop Titi-Ofei (Pleasant Place Parish) and Dr. Mrs Ellen Hagan (L'aine Services) among a high cadre of personalities who have honored the platform as Role Models.
Having at one point in his business lost almost all he started with including the folding up of about 5 branches of his company, the 'Professional Car Washer' will in an open dialogue speak on the theme: Winning in Business' on Sunday 26th March at the African Regent Hotel in Accra.
As has been the culture the platform which promotes African Narratives will attract guests from across Africa, magnetizing a rich pool of human capital and knowledge base for networking and business. The event which is scheduled to be held at the African Regent Hotel is set to start at exactly 3pm And climax at 6pm. Guests are expected to be seated 30 minutes ahead of the program.
The Corporate Dialogue will also host Investment Banker ,Dr. Sam Ankrah a global business strategist by choice, and a Ghanaian socioeconomic advocate by temperament. Dr. Ankrah has had more than 15 years successful experience in providing fiscal, strategic and operations leaderships in uniquely challenging situations. He has repeatedly produced sustained revenue and EBITDA growth in dynamic and changing markets. Dr. Ankrah has a proven track record in management and finance, investment banking, leasing and finance, factoring and forfeiting oil and gas, private pension management and international trade.
Educated in the United Kingdom, Dr. Ankrah holds a Bachelor's degree in Statistics and Management from the University of London, an MBA (Finance & Management) and a Leadership Advantage Program Certificate from the Cranfield School of Management, an MSc. in Economics, Social Science and Philosophy, and a PhD in Philosophy and Social Science all from the Pan-American University of Science and Medicines. Dr. Ankrah who has been awarded a PhD. (Honoris Causa) from the Sovereign Medical Order of the Knights Hospitaller, for innovative and exceptional financial engineering to help bring the functions of the group to the Sub-Saharan Africa Region will make his appearance on the Corporate Dialogue of Role Model Africa to distill insights on the theme: Winning in Business
Dr. Ankrah has been speaking and promoting investment opportunities in Africa, educating and encouraging the youth to venture in entrepreneurship at various platforms including UN sub-committees.
In open dialogue format the Role Model will share pragmatic insights on how to win in business, turn failing business around and building a globally competitive business.
Guests from all across Africa are expected to participate in the Corporate Dialogue to help project African Narratives.
The public is advised to contact 0503183699 or visit www.inventsfoundation.com for registration.
Africa has Role Models