11 January 2017
|
Editorial
For Nana Addo To Succeed, Let's Change Our Attitude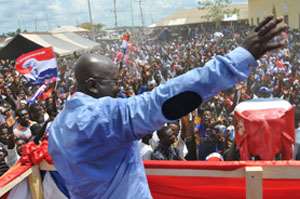 Last Saturday, before noon, the then President-elect, Nana Addo Dankwa Akufo-Addo, and his Vice President-elect, Alhaji Dr. Mahamudu Bawumiah, were sworn into office at the Black Star Square in Accra to commence the process of rebuilding Ghana's near-collapsed economy.
Present at the presidential inauguration were African heads of states from Zambia, Equatorial Guinea, Algeria, Egypt, Sierra Leone, Ethiopia, Chad, Liberia, Nigeria and Côte d'Ivoire.
Also present were over 6,000 foreign dignitaries, including members of the diplomatic corps, other notable personalities, as well as the crème-de-la-crème in the Ghanaian political landscape.
Before the presidential inauguration, at midnight on Friday, the 275 newly elected Members of Parliament (MPs) were inaugurated.
Soon after their inauguration, the Speaker, Rt Hon Prof Aaron Mike Oquaye, his 1st Deputy, Joseph Osei Owusu, and Alban Kingsford Sumani Bagbin, 2nd Deputy Speaker, were inducted into the House as well.
The Chronicle was moved by a statement made by President Akufo-Addo in his address, after taking the presidential oath and oath of secrecy, as it was profound and ought to be re-echoed and re-emphasised.
He said: "The Ghanaian people have summoned the change we celebrate today. They have raised their voices in an unmistakable chorus. They have cast their votes without equivocation, and have forced the change. Now we must do the work the season demands.
"Fellow citizens, you must be at the centre of the change. The change we have voted for will have to start with each of us as individuals. We can start with little changes in our own individual attitudes and practices. The change can, and should, start now, and with us as individuals.
"I ask you to be citizens: citizens, not spectators; citizens, not subjects; responsible citizens building your communities and our nation. Let us work until the work is done," he concluded.
As a matter of fact, The Chronicle believes that the President has hit the nail right on the head by calling on all Ghanaians not to stand back and watch him and his appointees alone do the work, because they cannot succeed.
The time has come for all of us to put our shoulders to the wheel, and play our parts individually, in whichever way we can, to ensure that together, we build our nation to the level we so very much desire.
We must eschew tribalism, favoritism and nepotism, and pave the way for Ghanaians who have the knowledge, expertise or experience to turn things around, to be employed to help rebuild Mother Ghana, irrespective of their political affiliation.
The littering of our streets must stop at once, as the canker is not only turning the country into a laughing stock, but has plunged our people into preventable chronic diseases and sicknesses.
As a people, we must obey the set of rules, regulations or laws that we have put together to guide us to build our dear nation, and do away with the system we have in place now, where people who have relations in high positions break the laws and go scot free.
The new craze in the country now, which has been in existence since a little over a decade ago, is that civil and public servants, as well as politicians, have made it their business to embezzle state funds to enrich themselves.
They do so for the simple reason that there are no serious laws binding them, and that even if people talk, they would stop, just as ex-President Mahama rightly pointed out – Ghanaians have short memories.
We implore the President to come out with laws punitive enough to deter people from embezzling state funds, as it is demoralising to hear that a man who went to steal plantain has been jailed three years, while another person who embezzled millions of Ghana cedis walks free.
Politicians who call in to police stations to demand the immediate release of their relations or people they know, who might have broken the law, must also desist from the act, and realise that we are all equal before the law.
To this end, The Chronicle is calling on the Nana Addo administration to appoint people who can do the job of unlocking the opportunities within the socio-economic fiber of this great nation of ours, to responsible positions.
He should not appoint wrong persons to occupy positions they cannot manage, simply because they are members of the party, because when he does that, it would be like putting square pegs in round holes.