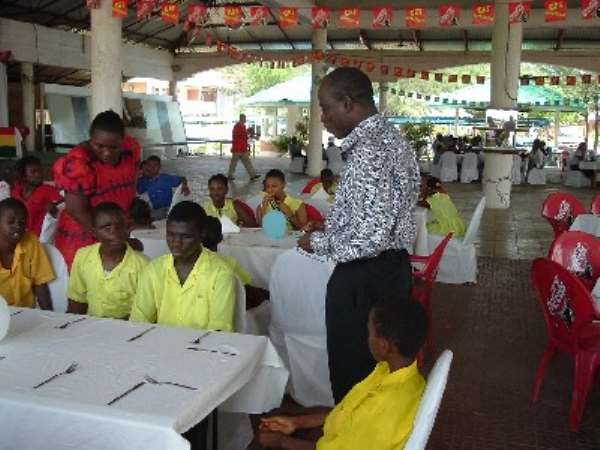 The Ghana High Commission in Sierra Leone last Saturday, March 5, 2005, in a unique style, hosted a party for school pupils in Freetown to mark Ghana's 48th Independence Anniversary.
School children from the Milton Margai School for the Blind, the Freetown School for the Blind, International School, Annie Walsh Memorial School, the Methodist Girls High School and the Lady Patricia Kabbah Memorial School and children of the local staff of the Mission attended the party.
Among the celebrants were 20 children whose birthday coincides with the National Day of Ghana. A special raffle was held for the 20 children who were all presented with gifts from Ghana.
The Freetown Cold Storage, manufacturers of Coca Cola and other soft drinks provided drinks in addition to drinks specially imported from Ghana for the occasion.
Ghana's High Commissioner to Freetown, His Excellency Kabral Blay-Amihere in an address to the celebrants said that the Freetown Mission chose to celebrate this year's Independence Anniversary with a party for children to underscore the commitment of the Ghana Government to the welfare of children.
He said it was significant that Ghana's Head of State, His Excellency John Agyekum Kufuor chose to focus on the welfare of children in his inaugural address to the nation on January 7, 2005 as a manifestation of the Ghana Government's policy to make the world a better and safer place for all and sundry, particularly children.
High Commisioner Blay-Amihere urged the pupils and the children of Sierra Leone to be studious and be of good behaviour so that they can effectively assume their role as future leaders of Africa.
Ambasador Umaru Bundu Wurie, the Director General and Ambassador-at -Large of the Ministry of Foreign Affairs and International Development who represented the Government of Sierra Leone commended the Ghana High Commission for celebrating the day with the children of Sierra Leone and pledged the determination of his Government to implement policies and programmes that will promote the welfare of children.
He noted that Ghana's independence inspired other nations to pursue the same goal and praised Ghana for its contribution to the total liberation of Africa.
A special birthday cake to mark Ghana's Independence Day and the birthday of all children born on March 6 was cut by the High Commissioner, Ambasador Wurie, Brigardier K. Poku, the Ghanaian Deputy Force Commander of the United Nations Mission in Sierra Leone and representative sof the invited schools.
The children and other invited guests danced to music from Ghana and Sierra Leone. Present at the Kiddies Party were a number of Ghanaian professionals working in Sierra Leone.
PS-Caption for pix-His Excellency Blay-Amihere talking to some of the celebrants from the Milton Margai School for the Blind.