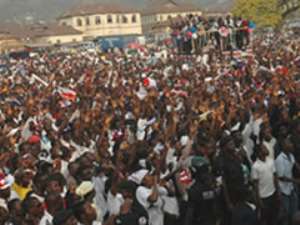 They are here again, It's harvest time! After the numerous billboard advertisements had proven unsatisfactory, they wait for the fig tree and all the trees to put forth leaves and exclaim, "Summer is now near". That is when their eggs are ready to be hatched.
In a world where words carry much power, not only does the holy book alludes to this fact but evidential in genocidal wars that have erupted from the mouths of people, such exercise of self promotion from pastors who meddle in politics and instigate political tension should be seen with an eye of abhorrence. Their mendacious propagandas camouflaged with their so called prophetic revelations are nothing but a quicksand soon to sink the country into a state of turbulence.
The stir created among the citizenry by their declarations and endorsement of politicians purportedly coming from God is equally a threat to national security as the perils of terrorism. Terrorism shouldn't be seen as having a connation with the use of ammunitions, but the power of words are the most deadliest weapon one could ever have in his arsenal.
It can do and undo a nation. In the past few months we have been keeping ourselves busy with the fear of entry of terrorists into the country forgetting these bunches of unscrupulous pastors whose acts have the same end products as terrorism itself.
To me, terrorism is bred from within and it is high time we nib these nation wrecking statements in the bud before the unthinkable happens. The enormity of this delusion created in the minds of Ghanaians for their selfish interest cannot be overlooked as tension begins to build up ahead of the November 2016 polls and could ignite the state into a political row.
As disappointing as it may seem from the religious point of view to see the people we have bequeathed this nation to lead us to righteousness and sanity doing conversely what is expected of them, it will be in our own interest not to condone this act of capitalizing on political situations for self promotion by throwing dust into our eyes.
Ghanaians are discerning enough not to play to the gallery of these nation wreckers in the guise of pastors mounting on the pulpits and draining us of our hard earned monies. Let's us all endeavor to make this year's election devoid of violence and that means bringing to a halt, this despicable act. I am for peace, what do you stand for.
The writer is a student of the Ghana Institute of Journalism