Shell launches first visa-enabled fuel card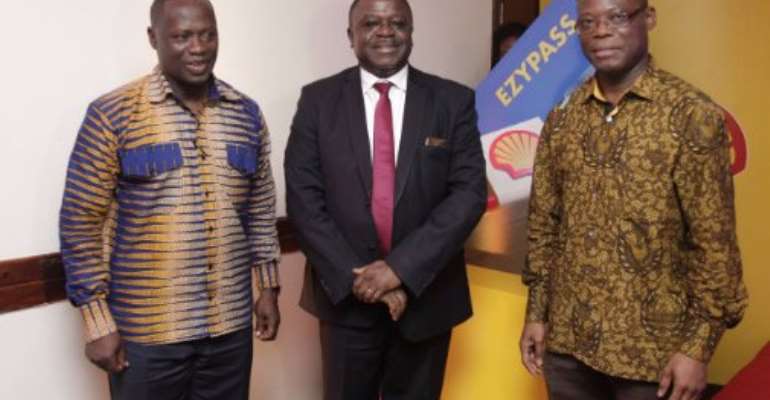 Customers will now enjoy the easy life with the introduction of the Shell Ezypass card, the first Visa-enabled fuel card to be introduced onto the Ghanaian market.
This innovation was conceived by Vivo Energy Ghana, the Shell licensee, and Zenith Bank, together with their partners, Visa International.
The Ezypass fuel card, which is easy to carry, is also designed with in-built security features to ensure 100 per cent cash security on the card and can be used to purchase fuel, lubricants or items at Shell shops. It can also be used at any Point of Sale (POS) terminals that accept Visa.
Speaking at the launch of the card, the Managing Director of Vivo Energy Ghana, Mr. Ebenezer Faulkner said that the Ezypass fuel card will not replace the current Shell card for fleets but is a new card for private and commercial motorists who want more convenient payment options in and outside Shell service stations.
"The Ezypass card can be used at all ATMs and Point of Sale (POS) terminals that accept Visa. It offers free instant card registration, acquisition and replacement at Shell service stations and Zenith Banks. The card can also be instantly reloaded and offers one per cent discount on every purchase at the pump," he said.
The Guest Speaker for the occasion, the Minister of Transport, Honourable Fifi Kwetey said that the launch of the Ezypass card is very timely, as Ghana is gradually moving to a cashless economy and would therefore play an important role in responding to the call from Government for Ghanaians to use electronic transactions.
"The Ezypass card will ease the stress of carrying money around. Indeed, life is about to get easier with Ezypass. Let us all use this innovative product as Ghana move to a cashless economy", he said.
Fifi Kwetey also used the occasion to call on oil marketing companies to ensure that transport fuels are of good quality for improved engine performance and to help reduce carbon emissions. He commended Vivo Energy Ghana for the introduction of its most advanced economy fuel, Shell FuelSave, last year.
The Minister of Petroleum, Honourable Emmanuel Armah-Kofi Buah, also commended Vivo Energy Ghana for the key role it has played in supporting deregulation of the downstream petroleum sector.
The Acting Managing Director of Zenith Bank, Mr. Henry Oroh was also full of praise for Vivo Energy Ghana and Visa International for the collaboration which will bring convenience to consumers.
"This new card also underscores our bank's vision to be the reference point for the provision of prompt, flawless and innovative banking products and services in the Ghanaian banking industry", stated Mr. Oroh.