Minster Resigns Due To Kronoo Wo Krom Buses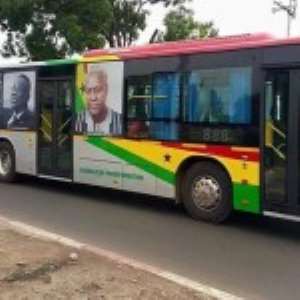 The Minister of Transport submitted her resignation to the Presidency following the massive public outcry over the GHc 3.6 million that has dissipated on the rebranding of the 116 Metro Mass Transit buses. The government decided to spend taxpayers money on rebranding the buses with pictures of the President and former Presidents. Why was rebranding of the buses not used as a source of revenue to government, because companies would be prepared to pay for advertisement on the buses. In effect and truely speaking, the rebranding of the buses with pictures of John Mahama and the former Presidents is political campaign. Around the globe, no civilize country does this sort of thing.
The public procurement act requires that all serious procurement should go through competitive bidding or sole-source procurement. Because we have a lot of branding and printing. and graphic design houses in Ghana. The increasing resort to single source procurement compromised transparency of the procurement process leading to corruption, AMERI, SADA, STX Korea, China Exim Bank, GYEEDA etc. Many of the projects under the NDC government are singing the songs of corruption for the people of Ghana. John Mahama and the NDC government are stealing from the fruits of the heroes of Ghana's economy, the so-called illiterate farmers, labourers, carpenters, fishermen etc. They are thieves, infact greedy conscienceless thieves indeed. We must not forget what Rawlings said, that the NDC government has lost its mind. Interestingly, a cabinet minister is reported to have justified the GHc 3.6 million spent on the buses, stressing that the artistic work is expensive.
It has also emerged that the Nzema East Municipal Assembly spent a whopping GHc 43, 000 on the commissioning of a Senior High School building recently. The expenditure is reportedly passion at the assembly as the members are demanding the justification for such a huge spending.
May I remind the Attorney General where is Woyome GHc 52 million? Ghanaians will be happy if the Attorney General's office will review the Karpower and AMERI contracts. With the stinging contract of Karpower, AMERI, rebranding buses etc. the government complains of lack of funds to pay workers, the state of schools under trees, state of our hospitals etc. Eventhough the Minister submitted her resignation, those involved in rebranding over the GHc 3.6 million 116 Kronoo Wo Krom buses be punished to dance the music of corruption.
Alex Tuffour
Communication Director
NPP Germany