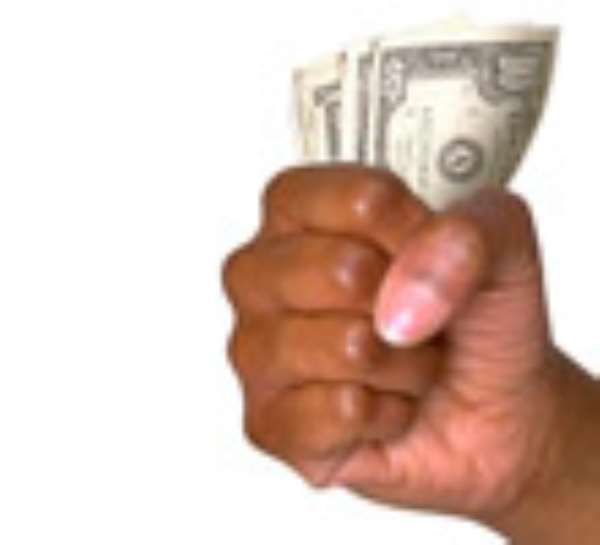 The "DOLLAR A MONTH FOR GHANA FUND", an initiative of the Ghana High Commission in Freetown which aims at mobilising the financial support of the Ghanaian community in Sierra Leone for humanitarian causes in Ghana and Sierra Leone was relaunched at the weekend in Freetown.
An amount of USD12,534 and 50 Euros was raised at the relaunch. Of the amount USD 3,735 was recorded as pledges. Ghanbatt 9, Ghanaian troops who recently served in Sierra Leone and Ghanaian Police peacekeepers topped the list of donors with a contribution of USD4800 and USD1000 respectively.
The Dollar For Ghana Fund was launched in February 2002 and has in its first two years bagged over USD 40,000. The Fund has so far donated 400 dual desks to schools in Greater Accra, Tamale, Takoradi, Sunyani, Kumasi, the Afram Plains and Upper West Region. Additionally 200 pairs of eye reading spectacles were donated to school kids in four districts in the Western and Central Regions whilst the Akropong School for the Blind was recently presented 30 braille frames. Other beneficiaries under the fund include the Ankaful and Pantang Hospitals which received two big size water tanks each and the Ghana Education Service which has received 22 water tanks for schools in all ten regions in Ghana. The Fund also donated 10 water tanks to the Ghana Police Service as its support for the Soap and Water for Hygiene Project of the Ghana Education Service and Ministry of Health.
In Sierra Leone, the Fund has also supported the Milton Margai School for the Blind in Freetown and a non-governmental organisation that caters for the needs of the handicapped in Freetown as well as a dental clinic ran by Ghanaian soldiers at Lungi International Airport. The total cost of items presented under the Fund in its first two years is about USD 38,000.
Speaking at the relaunching ceremony, the Ghana High Commissioner to Sierra Leone, H.E. Kabral Blay-Amihere thanked the small community of Ghanaians in Sierra Leone for showing great commitment to Ghana through the Dollar Fund and said that the Fund will continue to support the education and health sectors focusing on most deprived areas in Ghana and Sierra Leone.
He stated that it was encouraging to know that the Ghana High Commission in London and the Ghana Embassy in Addis Ababa have also launched similar fundraising programmes.
The Guest of Honour for the occasion, His Excellency Allie Bangura, the High Commissioner of Sierra Leone to Ghana commended the Freetown Mission for its initiative adding it was an example worthy of emulation and pledged his support for the project.
In attendance at the relaunching ceremony was a brass band from Ghanbatt 10 which provided melodious high-life and gospel tunes for the dancing pleasure of the Ghanaian community and friends of Ghana.