Justice Habib Logoh, cited in bribery scandal, fights impeachment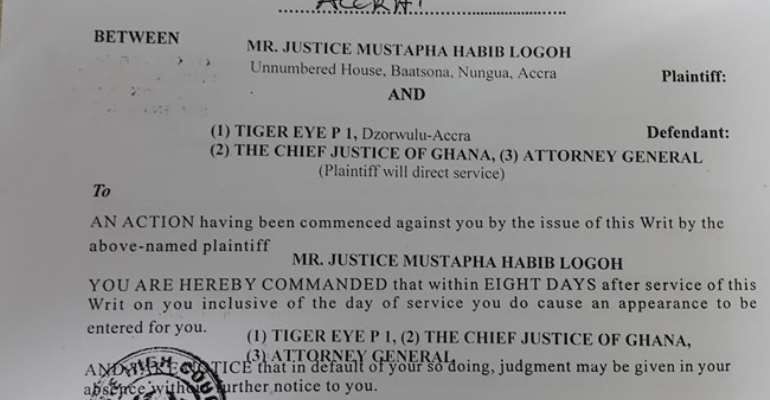 Another High Court judge cited in the judicial bribery scandal has filed a writ at the High Court challenging the legality of impeachment proceedings against him.
Justice Mohammed Habib Logoh cited Tiger Eye PI, the Chief Justice Georgina Theodora Wood and the Attorney-General, Marietta Brew Appiah Oppong as defendants in his suit.
Justice Logoh and 11 other High Court judges were captured on video allegedly taking bribes to influence their verdict on cases before them.
Investigative journalist, Anas Aremeyaw Anas and Tiger Eye PI compiled what they say is evidence of bribery in the judiciary. He subsequently petitioned the President in respect of the 12 High Court judges and the Chief Justice in respect of some 22 lower court judges and about a hundred other judicial service staff.
Impeachment proceedings have been instituted against the High Court judges, two of whom went on retirement after the investigations were completed.
The remaining ten are mounting legal challenges against the proceedings, arguing they have been instituted in breach of the law.
Justice Habib Logoh is demand total of ten reliefs from the High Court. He wants:
1. A declaration that the purported audio-visual recordings and transcripts in which the Plaintiff was allegedly captured is unlawMl and the same
amounts to entrapment;
2. A Declaration that the Directive given through the 3ro Defendant for the 2nd Defendant io use the audio-visual recordings and transcripts as a basis
to commence impeachment proceedings against the P ain% is null and void and of no legal consequence whatsoever;
3. A Declaration that the action taken by the 2nd Defendant pursuant to the said directive is equally null and void;
More soon.