When I Became A Soldier At Akim Achiase (Part I)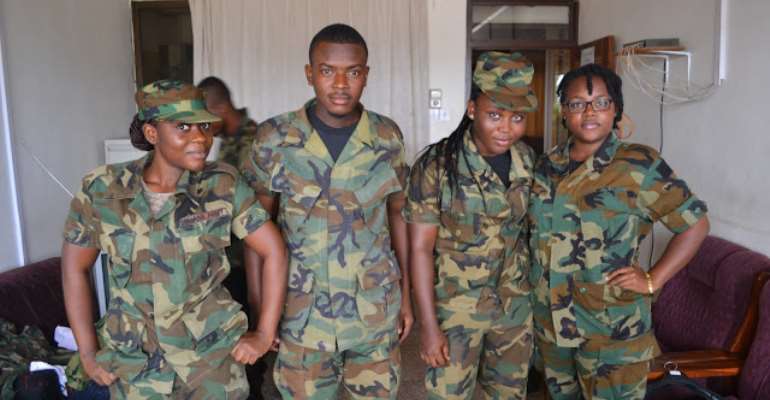 As we jogged out of the gates of the Jungle Warfare School and headed for the town roundabout on our first full evening at Achiase, the cheers and shouts from the town folk were deafening - it spoke volumes.
The town folk must have said - they are here again!
Junglers in a group photograph before leaving for the jungle
Suddenly the expression of enthusiasm and unbridled zeal was evident among us.
Tired and fatigued legs had given way for renewed ones as we closely followed the lead of our physical training instructor with well-orchestrated foot-bangs and body movements while we chanted a couple of interesting 'Jama songs ' along.
"Mmarimma mma" to wit strong men, they kept screaming at our every move until we negotiated the roundabout.
Apparently, the Achiase enclave gets set alight every time the soldiers are in town for one jungle warfare exercise or another, I later found out.
"It is not only the beauty of the uniform that excites us", one onlooker whispered loudly to her neighbor.
"Whenever they come around,economic activities blossom - and their presence brings along with it some sense of security", the other retorted.
I got a clearer picture. It made a lot of sense to me.
But....hang on!
Who would not relish the presence of personnel from the famed Ghana Armed Forces in their community - especially one that has been notorious over the decades for many forms of illegal activities than one?
Talk of illegal tree-felling from the numerous forest reserves in the Birim South and Central Municipalities,illegal mining (galamsey) operations on the Birim River - which have rendered the water body of an estimated 50-meter width and 15 feet depth, contaminated as well as other forms of crime.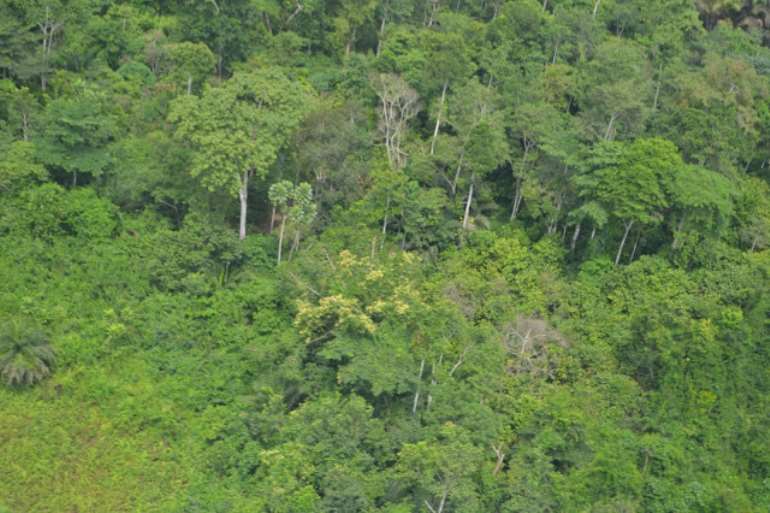 Akim Achiase boasts of several forest reserves.
It made for perfect comprehension the reason the then Achiasehene - Nana Otchere Darko II in 1976, lobbied for the Jungle Warfare School to be situated at Achiase, it's present location.
At least the large acres of oil palm, rice and cocoa plantations were going to be spared the invasion from farm produce thieves - and the poor farmers would have something to smile about.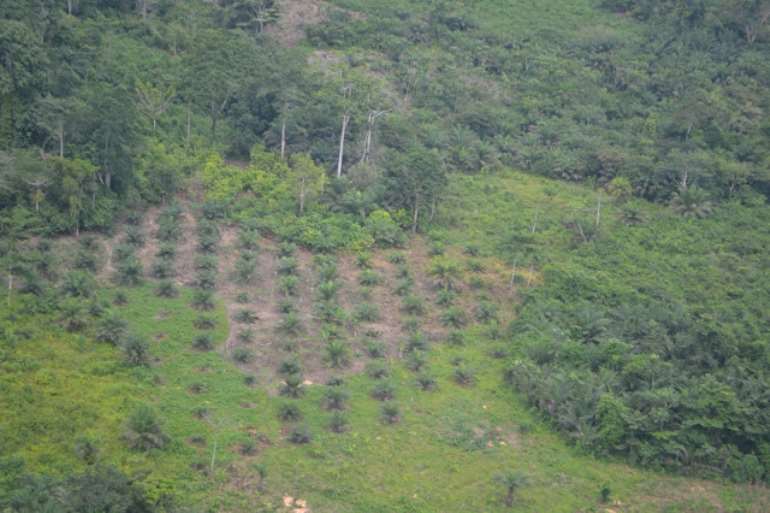 Oil palm plantations are very common in the area
Aside promoting the town and it's adjoining communities, the school, I gather attracts many foreign nationals whose activities once they are in town, significantly impact the lives of the locals.
Many soldiers who travel to train at the school, according to 2IC of the school, reside in town due in part to the accommodation challenges and as well to serve an indirect and unofficial purpose of providing security for these locals.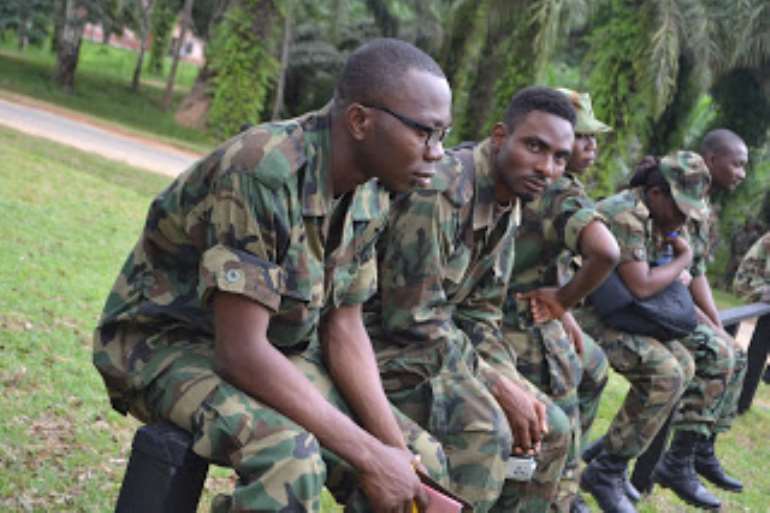 But that's a discussion for later.
We knew from that point, our stay in the community for the Exercise Tiger's Path 15 that was to come off between 21-24 July ,2015 was going to be memorable - I personally could not wait!
Prior to our journey however, we had heard stories - stories aplenty.
Those that were true.Those that were untrue.Those that defied logic.Those that were just beautiful.Then there were those that were "ugly" .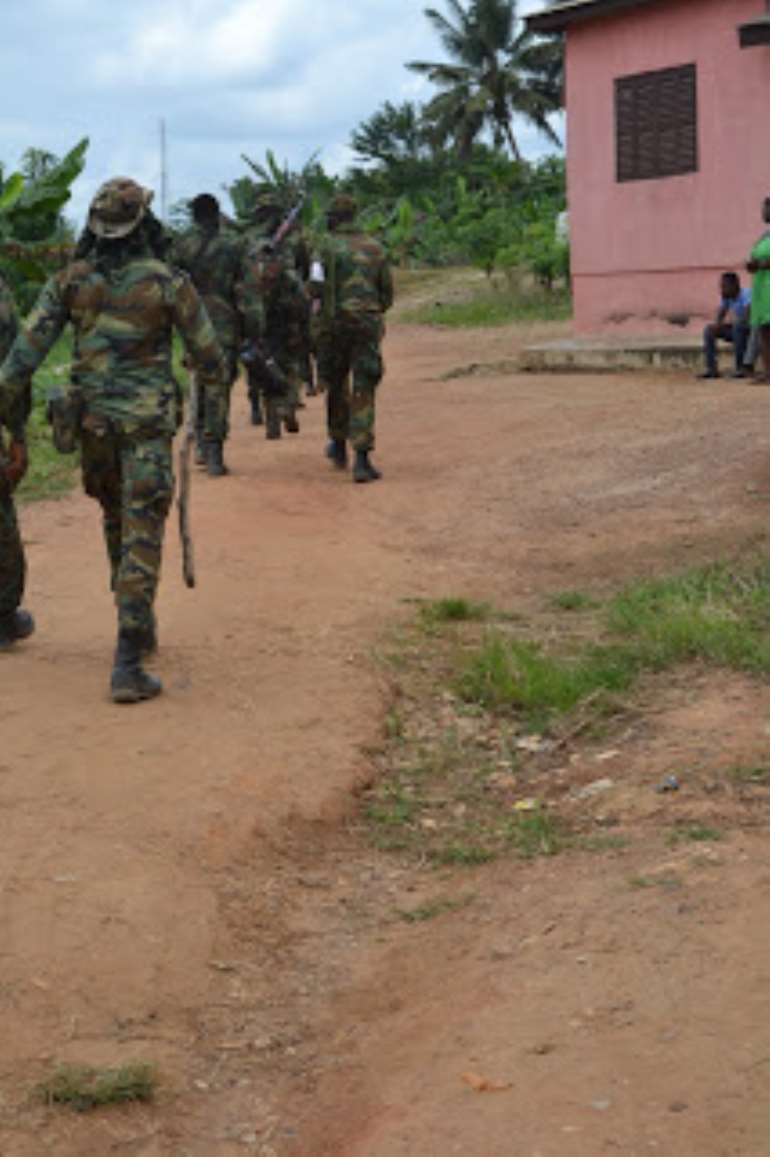 Experiencing life in the "jungle" was the aim and to participate in as much as our weak bodies could carry us through, was all that mattered.
In less than thirty odd minutes though, we were back at the school carrying out a few aerobics to warm ourselves after the evening jog.
The night at our hostel was different. Nothing like the prominent stories back home that we were going to sleep in the forests with snakes and other animals and at the mercy of the weather,no!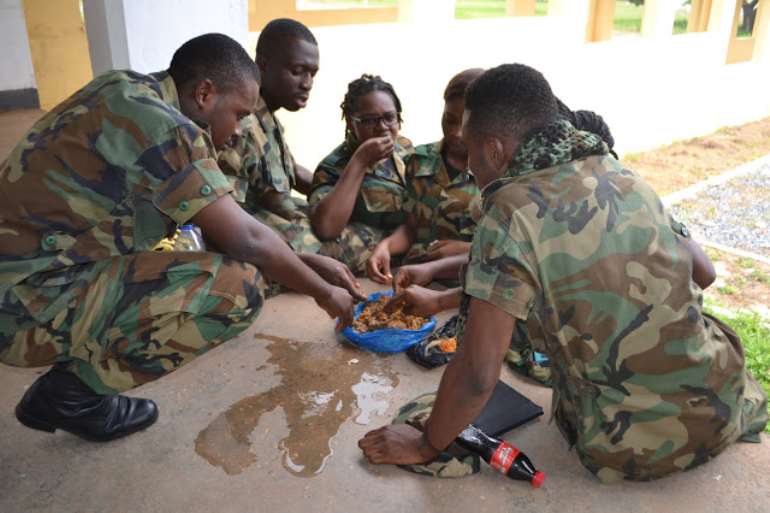 It was a tiring journey and we had to have some food
Away from the busy Ghanaian capital of Accra - usually alive with activities all day and sometimes all night long, to a somewhat secluded environment of little to no activity - just the little conversations among little groups.
It was uncomfortable. What excited us, was the thought of looking forward to the next day which we were told was going to have a number of activities.
Butterfly effect already? Perhaps not. Those of us who dreaded the weird experiences told of the jungle would not look forward to another day with much anticipation
..............to be continued
Writer's email address: [email protected]
Twitter : @kingsley_komla
Blog address: www.kingsleykomla.blogspot.com