Whiles Others Are Rising To Build In NPP, Some Are Rather Waking Up To Destroy!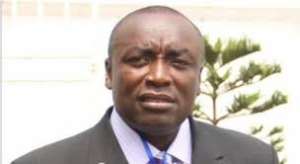 I listened to the General Secretary, Kwabena Agyapong's hard-boiled response to my comment yesterday on Okay FM in Ghana, as he speaks from Texas-USA where he's currently cooling off, whiles others are rising and building for victory 2016.
I personally deem Agyapong's response as highly pedestrian and uncalled for.
Clearly, the General Secretary's unnecessary outburst does not only depict his known arrogance but it shows the latent diabolical schemes planned against the Flagbearer Nana Akufo-Addo, his running mate Dr Bawumia and NPP's election 2016.
But one cardinal thing that Chairman Afoko and Secretary Agyapong must understand is that, the party is solidly united behind its Flagbearer who's highly composed and focused.
My advice to the GS and his boss Afoko is that, they can keep making themselves irrelevant and insignificant by the minute in the NPP.
Truly speaking, they are becoming worse than ridiculous. At the moment, the only supporters they have are those from the other side, but those on that side cannot dictate to NPP what to do.
I never knew that the professional management promised by Kwabena Agyapong is nothing but to 'set party internal records straight on national Radios'.
Throughout his outburst yesterday, Kwabena Agyapong sought to create serious disaffection for the Flagbearer Nana Akufo-Addo's leadership, indirectly painting a picture to show that indeed the cause of simmering problems in NPP has been the Flagbearer, by linking this particular bank account issue with Nana Akufo-Addo's entourage which ones or twice moved without waiting for him, and Dr Bawumia's press conference on voters register which chairman Afoko was not made aware before, etc. All aimed at causing serious bewilderment of the ongoing nationwide tour by the Flagbearer and other determined executives.
This diversionary tactics which sought to invite Nana Akufo-Addo's camp to respond to Kwabena Agyapong whether he was made aware of any impending Rise and Build Tour or not. Very clever GS!!
However, I am happy to note Nana Akufo-Addo has advised that No one should respond to the GS Kwabena Agyapong. His intention has woefully backfired.
We must all accept the blame because, some people foresaw this coming and told us, but we didn't listen. We lost the great opportunity again to get rid of them recently. We must now prepare our minds and souls for the worst to come from Kwabena Agyapong, Paul Afoko and their wicked-minded cohorts.
Prof. Kwarteng Addo.
United Kingdom.