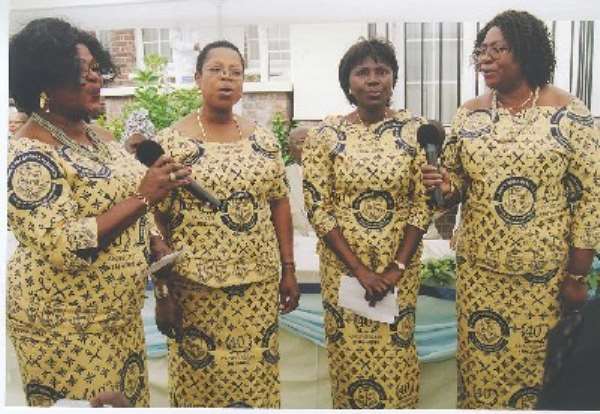 Moved by an appeal to Ghanaian philanthropists overseas to help some deprived schools in the Ga District, Mrs. Marian Osei, wife of Ghana's High Commissioner to the United Kingdom, supported by dedicated old students of St. Anne's Vocational Institute organised a quick save-our schools appeal for funds for the said schools.
Ghanaians and friends of Ghana responded to the special invitations and made an impressive presence at the launch event punctuated by poetic recitals, fashion show, music and dance.
Mrs. Osei's appealing message " if you get an opportunity in life, you should try and make life better for others", went down well with the respective groups and personalities which included High Commissioner H.E. Mr. Isaac Osei, his Deputy Mr. Kwabena Baah-Duodu, Ambassador John Fashanu and Mrs Beatrice Kolade, wife of the Nigerian High Commissioner to the United Kingdom and opinion leaders within the Ghanaian community in the UK.
By the end of the event, a healthy sum of £12,500 had been raised.
Leading the donors were De la Rue Currency, UK which energised the event with a donation of £5,000; Dr. Shadrack Ofosuware of the South London Temple Church handed in £1,000; Mr and Mrs. Quarshie-Collison-£700; Dr. Lawrence Tetteh of the World Miracle Outreach Ministry, London- £500; Mr. Reginald Laryea a member of the National Media Commission and Aku Sika Barett, a Ghanaian fashion designer based in Portugal contributing £200 each.
The impressive donations demonstrated the concern of the invitees for the plight of the school going public of Pokuase, Tokpo and Nuaso, who would now breath a sign of relief for the generous contribution towards making education accessible to them in a befitting manner.
For Pokuase and Tokpo, the stage is now set for provision of a three classroom block, furniture and basic educational accessories while St. Anne's Vocational Institute would benefit from the expansion of it's present dormitory block.
Mrs. Osei announced after the event that a steering Committee has been set up to oversee the disbursement of the funds and offer guidance and monitor the implementations of the projects.
On behalf of all London-based old students of St. Anne's Vocational Institute Mrs. Osei expressed her sincere thanks and gratitude to all invitees who helped to make the function a reality.