Has President John Dramani Mahama Abandoned MASTESS Scholarship Instituted By The Late Prof Mills?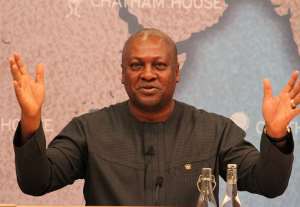 Dear Editor
Please permit me to use your medium to ask Government if indeed they have abandoned the Mathematics, Science and Technology Scholarship instituted by the late Prof Mills.
On 17th August, 2009, MsShierryAyittey (the then minister responsible for Environment, Science and Technology) acting on behalf of the president launched a scholarship scheme known as Mathematics, Science and Technology Scholarship (MASTESS). It was to be funded by a 2% of funds allocated for GETfund deposited in a special account call MASTESS fund. The launch of this scholarship scheme gave hope to science students all over the country that could not ordinarily complete or advance their studies in science for lack of finance.
The scholarship which per the agreement will pay a fix amount of money (Ghc 600.00 in the case of tertiary students)in support of each beneficiary's school feestill completion started with about 4,100 needy but brilliant students across the country.
However, the hope of the needy but brilliant science students was stalled when government beginning from 2013 failed to fulfill its part of the contract leaving its beneficiaries in the middle of nowhere.
I do not know what is happening to the beneficiaries of other schools but I do know that in University for Development Studies, beneficiaries of the scholarship scheme (continuing) have been issued a directive by school management to pay the fees owned them by the scheme and make arrangements to pay for subsequent academic years or risk being expelled from school, graduates of the scheme on the other hand are to pay the fees before they are cleared to take their certificates.
The questions that I demand answers for are whether the government has achieved the aim of promoting science education hence the scheme is no more valuable, whether the scheme has been given a long break or the President Mahama was not in support of his then boss's decision to institute the scholarship scheme leading to its scrapping off after his demise? Or it is the case that GETfund is no more allocated funds since 2013.
Whatever the case may be what does government expects the NEEDY students to do in other to settle the bills governments owe the schools so that they can continue their education or have access to their certificates in these times of hard economy?
I call on all stake holders, opinion leaders; civil society organizations, pressure groups to join the cry of these students to wake government up to its task.
Awiagah Sherrif Kwame (BSc. Nursing)
[email protected]
0203776315/0543896253