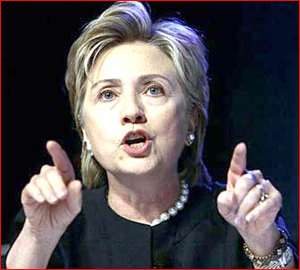 Before we proceed, let us make some clarifications. This writer is a Nigerian and knows very little about United States' politics on first hand basis. Like most of our people who take keen interests in the US elections we have relied much on information from the media and from our knowledge of theoretical politics. So we must admit our limited knowledge beforehand.
Secondly, for those who know this writer very well know that notwithstanding his progressive views, his views on US politics is surprisingly pro-Republican except in 2008 where he joined the rest of the world in dropping his toga of partisanship to support Barrack Obama in that historic election. My Republican persuasion lies from the fact that blacks were originally supporters of the Grand Old Party (GOP). Though many blacks tend to have forgotten this fact, the first set of blacks in the US Congress were Republicans. Abraham Lincoln's Republican government it was that freed black slaves during the American Civil War (1861-65). I am no racist though!
Some weeks ago, former Secretary of State, Mrs Hillary Clinton officially signified her intention to take a shot at the US Presidency. No sooner had she done this than the Republican handlers started personal attacks on her, including digging deeper into her past in their bid to discredit her. My humble take on this rather jejune approach is that it is counter-productive!
We say this because, first Mrs Clinton is not yet the Democratic candidate, she is only an aspirant like every other. Second, the Republican handlers are only revealing their cards rather too early. Thirdly, GOP leaders are making the same approach that just recently failed in the Nigerian presidential elections. Nothing good ever comes out of focusing your entire campaign on your opponent, you end up campaigning freely for him or her. Sadly this appears to be what GOP handlers are doing.
For those who know, the 2015 Nigerian presidential election, like I wrote in my article, PDP's Fatal Underestimation of APC's Strategy (http://olalekanadigun.com/pdps-fatal-underestimation-of-apcs-strategy-in-the-2015-elections/) was won and lost thanks to the tactless(ful) use of propaganda. The ruling People's Democratic Party(PDP) rather than focus on campaigning for votes and promoting its own candidate, President Goodluck Jonathan shot itself in the foot when it took to lies, insults and personal attacks on the All Progressives Congress(APC) candidate, General Muhammadu Buhari. The disinformation the PDP sponsored against the General backfired in no small measures that the party will live with at least for the next four or more years. It all started when the Party's Presidential Campaign spokesman, Mr. Femi Fani-Kayode, a below par public relations handler, told everyone who cares to listen that the Jonathan's campaign will focus entirely on General Buhari, the party's main rival!
My fear for the Republicans in this case is that they are failing to see the obvious. Can it be that the GOP handlers are scared of Mrs. Clinton's candidacy? Are they finding it difficult to cope with her charisma? Again what does Mrs Clinton's personal lifestyle got to do with the election? Will they personally attack her to the extent they will go for her pets? My unrequested opinion is for the GOP leaders to focus on the issues rather than quotidian issues like age, sex, race or family. I can only hope that Republican leaders who have lived long enough will remember how the attack on Franklin D. Roosevelt's dog, Fala massively backfired in the 1940s!
Insults don't win arguments just as propaganda doesn't win elections. Even if it appears to do so, it is at best temporal. Propaganda can win battles in some areas but does not win the war. This was the lesson the German Chief propagandist during the World War II, Joseph Gobbels will perpetually remember in his grave. If propaganda ever wins election President Goodluck Jonathan would have won the March 28 presidential election. If propaganda ever wins a war the world would probably be under Nazi rule today!
It is true that the GOP is on course to win the 2016 election as a result of its recent success in the mid-term elections, though this is not in any way mechanical. Failing to win the presidential election will be their greatest undoing. The tactless use of propaganda by their handlers to which Hillary Clinton, if her strategists are working can take advantage of to become the first woman occupant of the White House!
Olalekan Waheed ADIGUN is of many parts. He is a writer, philosopher, politician, academic, dramatist, poet, psephologist and a political strategist.
As a writer, he has many articles to his credit in several newspapers including The Guardian, The Punch, The Sun to name just but a few. He writes manly on Politics, economics and in some cases poems and sports. He also doesn't hide his progressive stand and orientations on his write-ups so he thrills his readers with his astute knowledge of history and Literature which he frequently deploy as his main methods in his analyses.
Adigun, popularly and politically known as ADG by his admirers, got his political ambition into full gear when he joined the Kwara State Polytechnic, Ilorin in 2003 when he joined in the titanic struggle against campus cultism which was then a familiar menace on the campus. He later rode on to make significant contributions to his Department (Marketing) when he was appointed the secretary of the students' Electoral Committee hence conducting one of the freest and fairest election in the history of the association.
He later joined the Obafemi Awolowo University, Ile-Ife where he immediately launched himself first in his Department (Political Science) when he was appointed as a member of the NAPSS Week Organizing Committee as a part one student in 2007. He later appointed into several other Committees later. He later ventured into Students' Union politics. He was elected into the Students' Representatives Council(SRC) in 2009 to represent his Faculty ( Social Sciences) where made several outstanding contributions. He was one of those who won a thickly contested Parliamentary election in the Faculty to return to the House. He graduated from the University successfully bagging his degree in Politics, Philosophy& Economics( Second Class Upper) in 2012.
As a Corps member serving in Adamawa State, he won election as Platoon Leader and was voted Best Platoon Leader during the 2013 Batch 'A' Orientation Course in the State. He was equally appointed as Corps Liaison Officer(CLO) for Guyuk LGA in Adamawa in the process meeting several political figures. He largely fell in love with the state which he now considers his.
He works presently as a Researcher and Staff Writer with The Ready Writers (TRW) Consult, Victoria Island, Lagos. He also an independent Political strategist and Brand manager for political campaigns and organizations.
His write-ups can be viewed on his website http://olalekanadigun.com/
Tel: 08136502040, 07081901080
Email: [email protected]
[email protected]