Tertiary students issue 48-hour ultimatum to govt over utility bill payment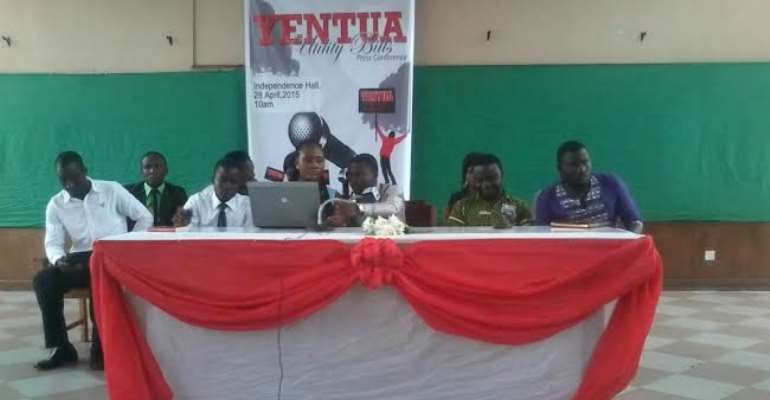 A group calling itself Confederation of Tertiary Students in Ghana has given government 48 hours to rescind its decision to compel tertiary students to pay for utilities.
The students say they will embark on what they describe as unprecedented student demonstration over the matter if government fails to heed their call.
The students are displeased by government's decision to compel students to pay for utilities in tertiary institutions.
Stakeholders in education met in Accra last month to discuss ways tertiary of institutions could conserve energy in the face of the county's power and general economic difficulties.
Documents circulating in the media suggest leaders of the NUGS agreed with government and stakeholders to pay utility bills.
However the student pressure group says the measure was ill-thought since NUGS has denied agreeing to such arrangement.
At a press conference in Kumasi on Tuesday, the angry students called on government to rescind its decision or face street protest.
The group is made up of Student Representative Councils and local chapters of the National Union of Ghana Students from public and private tertiary institutions.
They include University of Mines and Technology at Tarkwa, University of Education, Winneba, both main and Kumasi campuses, University of Ghana, University of Development Studies (Nyamkpala-Campus), Wesley College of Education and Christian Service University
The group is asked students across the country be part of what it describes as a 'red alert crusade' until government withdraws the policy.
According to them the 'yentua demo' Tuesday will be followed by mass student rallies across the country.
Spokesperson, Michael Kwadwo Nketiah, told Luv FM students will take to the streets should government drag its feet on their demands.
"If government does not listen to our call, we are going to paint the street of Ghana red not with our bodies but with our lives.
"We shall not sit aloof when the lives of the future of Ghana are being denied the right to education with dream-killing, insensitive, poisonous, anti-education and anti-poor policy to bill us...", Mr. Michael Kwadwo Nketiah warned.
The group says Tuesday's protest is to fight for poor students and parents.