Bio-repository facility to aid research in tropical diseases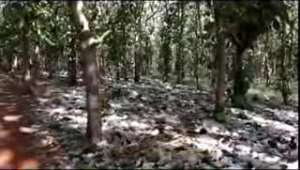 Ghana is not out of the woods yet in terms of the country's disease burden as recent data shows the impact of health problems is higher than estimated.
The Kumasi Centre for Collaborative Research (KCCR) has therefore committed to develop a critical mass of research scientists to conduct research into tropical and related diseases that are of national and regional importance.
Current research activities at the KCCR include malaria, tuberculosis, onchocerciasis, buruli ulcer and elephantiasis.
"What we are seeking to do is to keep on finding some answers; so for example on buruli ulcer, how best can we improve on the treatment?" quizzed Dr. Ellis Owusu-Dabo, Scientific Director of the KCCR.
Together with its partners, the KCCR is putting up a cold house to create a bio-repository of human and biological samples for teaching and research. The project, to be completed before end of 2015, is funded by the VW Foundation at a cost of €250,000.
The building will house freezers and fridges with the state-of-the-art facilities to help track diseases and populations in answering important research questions.
According to Dr. Owusu-Dabo, the cold house will operate in accordance with standard rules and regulations which will be stipulated by the Ethics and Institutional Board Committees.
"It's good to have a repository where samples are kept, research questions are raised and then the answers sought on the basis of the creation of the bio-repository," he noted.
"So when we do have for example sputum samples, is there a way that we can go back and look at community X and say that on the basis of the samples we do have, community X is likely to be prone to resistance strains of tuberculosis?"
The research works of the KCCR are largely aligned to the research agenda of Ghana – the Centre currently working with the Ghana Health Service to conduct the first-ever drug resistance study for pulmonary tuberculosis in the country.
The Centre hosts the African Research Network for Neglected Tropical Diseases and also serves as the research wing of the College of Health Sciences at the Kwame Nkrumah University of Science and Technology (KNUST).
Vice-Chancellor of the KNUST, Prof. Otoo Ellis is enthused at the establishment of the cold house facility at the KCCR.
"With time, you need to continuously upgrade your system; the cold house is one of the critical things that we need because you need to be able to store your samples, keep them in a state where you don't have variations," he said.
The University has the core business of teaching, research and service and entrepreneurship training.