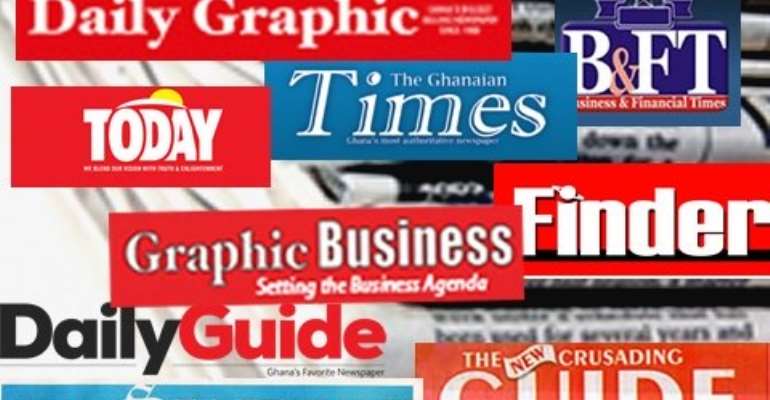 WHO STEPS INTO AFARI -GYAN'S SHOES AS HE RETIRES IN JUNE?
The search for who becomes the new Chairman of the Electoral Commission (EC) has begun in earnest, as the current Chairman, Dr Kwadwo Afari-Gyan, will proceed on his statutory retirement in June.
ISSER QUESTIONS UNEMPLOYMENT DATA
The Institute of Statistical Social and Economic Research ( ISSER ) of the University of Ghana has questioned the method use by the Ghana Statistical Service (GSS) in capturing unemployment figures.
AUDITOR-GENERAL PROPOSES WORKING GROUP
The Auditor-General has proposed the formation of a five-member Joint Working Group (JWG) to work on the format by which the Attorney-General can initiate action through the legal process to recover stolen or misplaced state funds.
TENSION MOUNTS AT SOMANYA
Tension is mounting at Somanya in the Yilo Krobo Municipality following the desecration of the tomb of a Paramount Chief of the area, Nene Ologo Dautey II, who passed away in 2009.
BARCLAYS INTRODUCES POWER LOAN
In line with its efforts at sustaining businesses in the face of the current energy crisis, Barclays Bank, one of Ghana's leading financial institutions, has introduced a loan package designed to provide funding to customers who are desirous of owning generators.
MINISTER HOT; SUMMONED TO FLAGSTAFF HOUSE
The Deputy Minister of Trade and Industry, Ibrahim Murtala Mohammed, who is also the Member of Parliament (MP) for Nanton, is expected to appear before the Presidency tomorrow, Tuesday April 4, 2015 to substantiate allegations that a colleague minister is plotting to unseat him.
CRUNCH LABOUR MEETING TODAY
Organised labour will hold a crunch meeting at 10am today to deliberate on a number of issues affecting the Ghanaian worker.
NIA NEEDS PPPS TO SURVIVE – DR COBBAH
The National Identification Authority (NIA) says it is poised to move on with Public Private Partnership (PPPs) in order to effectively deliver on its mandate.
GHANA GAS EARMARKS EMPLOYMENT QUOTA FOR HOST COMMUNITIES – SIPA YANKEY
The Chief Executive Officer (CEO) of Ghana National Gas Company (GNGC), Dr George Sipa Yankey, has announced that the company has earmarked employment quota specifically for its host communities.
NORTHERN CHIEF, IMAMS ANGRY AT MURTALA MOHAMMED
The chiefs, Imams and other opinion leaders in the three northern regions of Ghana have condemned allegations of corruption leveled against them.
NDC WICKED AGENDA AGAINST WORKERS: VOTE FOR US, LOSE YOUR JOB IN 2017
What can be described as "a wicked agenda planned to be executed by President John Dramani Mahama and his National Democratic Congress government against Ghanaian workers under the International Monetary Fund bailout programme for the country has been exposed.
NDC ACTIVIST PAID FROM GOVERNMENT BUDGET
Former National Organiser of the National Democratic Congress, Yaw Boateng Gyan , has revealed that officials and activists of the NDC are always paid from the Office of the President, a development that has been described by economic analysis as unacceptable.
KUFUOR URGES GHANAIANS TO RESPECT MANAGERS OF ECONOMY
Former President John Agyekum has issued a damming verdict on the Mahama-led National Democratic Congress government in the management of the national economy attributing the country's decision to seek a bailout from the International Monetary Fund to sheer ineptitude.
VODAFONE MUSIC AWARDS: MAHAMA, OTUMFUO PROPEL LUMBA TO VICTORY
Call it a controversial endorsement and you may not be far from it. But controversial as it was, it became beneficial in the long run. This is the story of one of the nation's most celebrated musician, born Charles Kwadwo Fosu but known as DL or Daddy Lumba.
DR KPESSA WHYTE ORDERED TO HALT REFORMS AT NSS     
The restructuring exercise embarked upon by the acting Executive Director of the National Service Scheme (NSS), Dr Michael Kpessa Whyte, to clean up the scheme's payroll and eliminate other acts of official impropriety at the scheme's offices countryside, has come to an abrupt end following an order from the scheme's board chair.
BANKS RAMP UP INVESTMENT IN T-BILLS DESPITE SLOW GROWTH
 Commercial banks have shored-up their investments in government securities as they continue to tighten credit to private enterprises at a time their provisions for loans that might go bad have inched up.
VARSITIES GET MEAGER GETFUND CASH
Public universities in the country have had to contend with insufficient funds from the Ghana Education Trust Fund (GETFund) for infrastructure projects to enable them increase the intake of growing numbers of high school graduates.
OVER 36,000 COUPLES LOSE MONEY TO GOVERNMENT
Tax allowances for married couples totaling Ȼ1,084,860 million has not been paid by the government for the past 14 years.
ESTATE DEVELOPERS KICK AGAINST AFFORDABLE HOUSING BILL
Real estate developers in the country have expressed their displeasure about a proposed tax bill, currently before parliament, to aid in the construction of affordable housing.