Towards Peaceful Elections in 2015
Jega is not corrupt-M.M Akanbi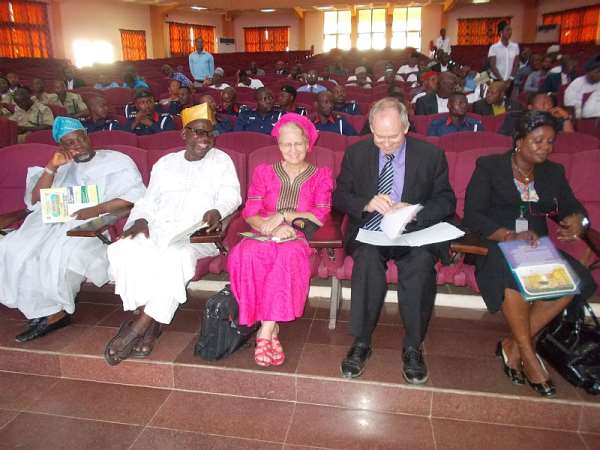 That Nigeria may be amongst the ten peaceful countries in the world after 2015 general election was the objective of organizing a special public lecture by the Centre for Peace and Strategic Studies, University of Ilorin with the topic "Towards Peaceful Elections in 2015: The roles of Stakeholders in Nigeria".
In his welcome address, Dr Mahfouz Adedimeji, the AG. Director, Centre for Peace and Strategic Studies said the lecture was occasioned by the need to sensitize critical stakeholders on their roles in the forthcoming elections in Nigeria; how anxious citizens of Nigeria are about the elections. The stakes in relation with the policies that are over-heating and what is expected of various stakeholders before, during and after the election. He stressed that in all situations, we should exemplify the true servants of the beneficent whose response to the provocations of whatever degree is PEACE just as peace is everyone's business. "let us talk and work peace because peace is possible" he finally remarked.
The chairman of the occasion, Justice Mustapha Akanbi during his remark, asserted that Prof Attahiru Jega is not a corrupt man and should not resign at the eleventh hour to the polls. He enjoins every stakeholder to vote wisely and never embark on any form of activity that can break the country after the election. "We should show the world that we can run a peaceful election" he proudly submitted.
The guest lecturer, Professor Danny McCain of the department of Religion and Philosophy, University of Jos, who delivered a lecture on the topic, identified and critically made manifest, the role of stakeholders in 2015 General Election. Professor Danny took participants on an incursion into elections in United State of America. He noted that election in Nigeria is characterized by tension, insecurity, violence and other forms of disturbance, unrests and aggression. He identified the various stakeholders to include INEC, the Judiciary, security forces, political parties and their candidates, electorates among others.
Professor Danny highlighted various options which could make for the peaceful outcome of the elections which include incisive comments across religious, regions and sections. He stated that civil society and organizations should maintain neutrality between various political parties which is key to effective collaboration, constant interaction and subsequent peace-building of the country. He ended by commending Nigeria courts that have shown to some extent, genuine independence.
The chief host, Prof. AbdulGaniyu Ambali, the Vice-Chancellor of the University, during his remarks averred that the labour of our heroes in the past will never be in vain only if we play our roles effectively. He added that the ability to make or mar a country depends on every citizen. He therefore encouraged the stakeholders to eschew violence during and after the election; but embark on the responsibilities that will make the forthcoming election a peaceful one.
Reported by Afolabi Aminat (400L Chemistry) and Abdulazeez Muh'd Bashir (200L Combined law) University of Ilorin.