Northern Star Disappoints Farmers Again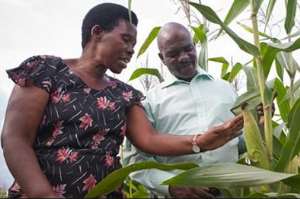 Tomato farmers in the Upper East region are using their resources to cultivate other vegetables due to the dwindling market opportunities in the region.
In the past, farmers, who cultivated tomatoes across the region, lost most of their produce.
Some have attempted suicide to escape the people and organizations, who gave them money to cultivate the vegetable.
Some farmers, who spoke to BUSINESS GUIDE at the Tono Irrigation Dam area and Pwualugu, revealed that the Northern Star Tomato Factory at Pwualugu, which is expected to serve as the main market point for tomatoes in the Upper East region, had become redundant.
'Already the tomato queens from the southern part of the country have been discarded our tomatoes, and so our only hope was the Northern Star Tomato Factory, which has also been shut down. Government has been promising that it will help the Northern Star Tomato Factory to work again and so we kept producing tomatoes only to get disappointed,' a farmer said.
Upper East Chairman of the Vegetable Farmers Association, Donald Samani, hinted that the region and other parts of the country will record a shortfall in the production of tomatoes this year, adding that the price of the tomatoes on the market will be high.
Even though the management and board of the Northern Star Tomato Factory will not accept the position of farmers, the farmers insisted that the problems are beyond the management and board and called for government intervention.
According to Mr Samani, even though efforts have been made to sustain the factory to allay the fears of the farmers, the tomato farmers in the region are still not convinced about the progress of the factory.
In December 2013, the then Trade & Industry Minister, Haruna Iddrisu, as part of a working visit to the Upper East region, met the management of the Northern Star Tomato Factory and also inaugurated a seven-member management board.
He reiterated government's commitment to revamp the factory by the first quarter of 2014. That followed an earlier promise by President Mahama in September 2013 that government was in talks with an investor to revamp the factory to create jobs.
As at February 12, 2015, the promises by Haruna Iddrisu and President Mahama had not been fulfilled and the Northern Star Tomato Factory has also failed to live up to expectation.
From: Ebo Bruce-Quansah, Bolgatanga