Use Valentine's Day for charity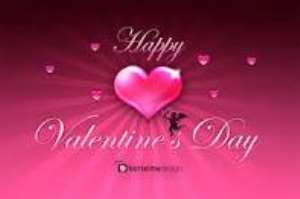 Agona, (Ash), Feb.10, GNA - Mr Opoku Agyeman Prempeh, Executive Director of the Centre for Moral Education, a youth centred organization in Kumasi, has asked Ghanaians to see the Saint Valentine's Day as a day of charity and compassionate care for people in extreme poverty and distress.          
He said St Valentine was a humble and generous priest who dedicated his life to serve and care for the poor, vulnerable and oppressed in his time.          
It was, therefore, important for the youth of today to have greater understanding of the works of Saint Valentine, so that they could emulate him, instead of using his birthday to engage in all sorts of immoral acts, he said.          
Speaking to the Ghana News Agency at Agona, in the Sekyere South District, in reaction to the ongoing media hype of St Valentine's Day, which falls on February 14th, Mr Prempeh, called for a change in the way the day was celebrated in Ghana.          
He said the media hype, which sought to associate the celebrations with sexual relationships, and therefore, tried to offer attractive packages for the youth to indulge in irresponsible acts, should be stopped.          
Mr Prempeh, who is also the Managing Director of Lakayana Company in Kumasi, called on the leadership of the Catholic Church to come out and lead in the crusade to educate the public on the good works of St Valentine and prevent people from associating his name with acts contrary to his works and teachings.          
He also called on the media to use the occasion to educate the public on philanthropic and charitable acts and how to care for poor and the needy in society.          
This would make such people feel part of society, he said.
GNA EN-GB X-NONE X-NONE