Oil workers declare a day's strike; threaten to grind sector to a halt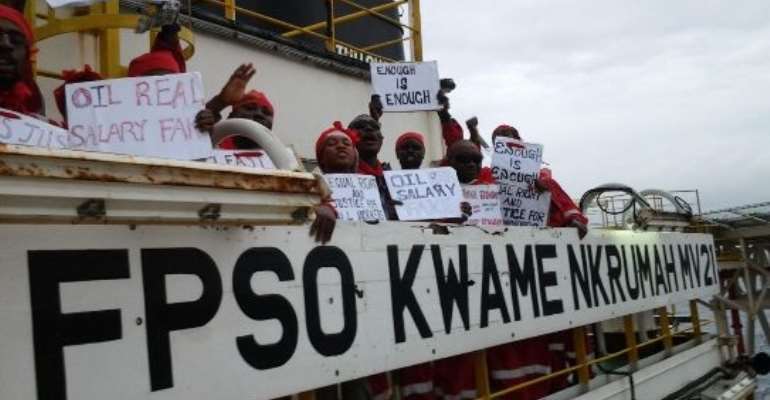 The General Transport, Petroleum and Chemical Workers Union, has declared one-day strike on Tuesday, November 18, 2014.
This follows the dismissal of 27 workers of petroleum company MODEC.
MODEC dismissed the workers who were protesting the unfavourable and discriminatory conditions of service. They complained they were paid far less compared to their foreign counterparts.
The mother union, unhappy with the dismissal of the 27, announced the strike at a press conference in Accra Monday morning.
Joy News' Kwakye Afreh Nuamah who was present at the press conference reported the General Secretary of the union Fuseini Iddrisu as saying the 27 workers must be reinstated unconditionally with immediate effect.
He also said the management of MODEC should withdraw unacceptable directives issued to the remaining workers; one of which is that the remaining workers should sign a bond to be of good behaviour.
A letter containing the directives was said to have been sent to the workers on October 4, 2014.
Speaking on the impending strike and its repercussions on the sector, Afreh Nuamah reported Mr Iddrisu as saying workers and union members in sensitive units of the petroleum sector in Ghana such as the West Africa Gas Pipeline, Tema Oil Refinery, Tanker drivers Union will not work tomorrow.
Fuel for instance, will not be lifted from either the BDCs or from TOR to petrol stations where petroleum products are in short supply, he noted.
Samuel Quarshie, Chairman of the General Transport Petroleum and Chemical Workers Union told Nuamah it will be in interest of the Management of MODEC  to yield to the demands of the workers because the consequences of refusing to do so are dire for the company.
He said they have the capacity to grind the petroleum sector to a halt if their conditions are not met.
He, however, expressed the hope that management of MODEC would see reason to reinstate the dismissed workers and withdraw the unlawful directive.