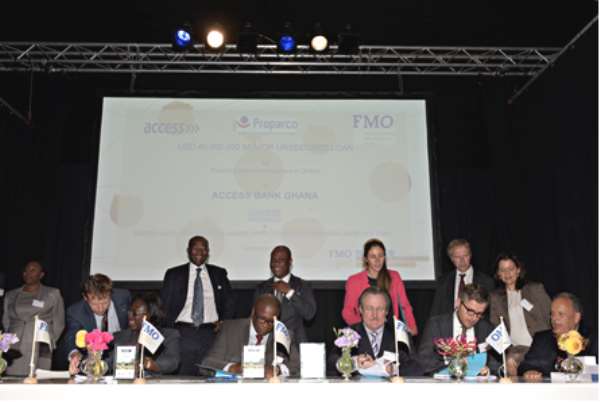 Access Bank (Ghana) Limited has secured a USD 40 million credit facility from the French Development Bank, PROPARCO and its Dutch counterpart FMO, to support its lending activities to the private sector in the Ghanaian economy.
The transaction was signed in Rotterdam in the Netherlands on Monday September 29, 2014 and is in line with Access Bank Ghana's strategy to expand its lending portfolio to key sectors of the Ghanaian economy.
Through its extensive branch network, the bank plans to finance businesses in the Export, Manufacturing, Agro-allied, Infrastructure and Service sectors.
Commenting on the transaction, the Managing Director of Access Bank Ghana, Mr. Dolapo Ogundimu stated:
 "This is a landmark transaction for Access Bank and we greatly appreciate the support and trust of our partners. FMO and PROPARCO have been our partners since we opened shop in 2009, and this facility demonstrates their confidence in our Bank's strong Corporate Governance and Risk Management policies".
Mr. Ogundimu further added: "This facility will enable our Bank deepen its financial intermediation role and act as a catalyst for Ghana's development agenda". 
On her part, Ms. Marie-Hélène Loison, Deputy CEO of PROPARCO, speaking on behalf of the consortium noted: "This is the second time PROPARCO and FMO are financing the Access Bank Group. PROPARCO is proud to be the lead arranger of this facility which will increase the range of long-term financial resources and strengthen local financing capacities in a wide variety of key economic sectors".