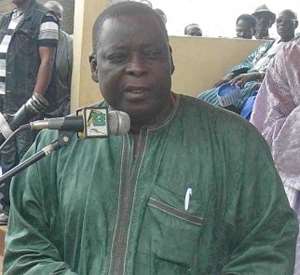 Mark Woyongo, Minister of Defence
Defence Minister Mark Woyongo could not have painted a gloomier picture about the state of the proliferation of small arms into the three Northern regions.
While the concern should serve as a wakeup call to all Ghanaians to be involved in stopping such dangerous and illicit traffic of the killer gadgets, it also underscores the national security challenge besetting the country.
We are aware of the efforts being put in with the support of the international community, towards stemming the illicit traffic in small arms – especially the establishment of an office for that purpose.
The more the officials engaged for the seemingly intractable task try to stem the tide, the more glaring it becomes for a fresh and more effective module.
The flow of such small arms from the south to the north as noted by intelligence and as put forth by the minister is intriguing: the high incidence of armed robbery and highway robbery in the north can undeniably be attributed to the increased flow of such firearms.
The movement of small arms from the south to the north is also indicative of the fact that these firearms are used in supporting deadly factional battles in the flashpoints in this part of the country, besides serving the need of highway robbers.
In yesterday's edition there was a story about how a Metro Mass Transit bus was attacked by AK 47-wielding robbers. Although nobody died in the attack – thanks to an embedded policeman who engaged the miscreants – the underlying fact is that robbers have become more daring, striking even at 8:30 am as the story posted.
We recall the recent attack on a bullion van by armed men who succeeded in killing two police escorts and two others onboard: the killers were not interested in the contents of the van. They carted away the weapons wielded by the murdered cops.
Such weapons are going to be used by the killers themselves for further murders or sold to colleagues within the country.
The minister's observations, it is instructive, were made when the people of Nanumba land in particular and indeed the country, are still nursing a gory murder in Bimbilla.
No part of the north is a no-go area for armed robbers and highway robbers now. The long stretch between Kintampo and Buipe is now so dangerous that vehicles are led in convoys by armed police or military escorts when they reach the town close to midnight. These parts of the country many years ago were spared the menace of armed robbers and highway robbers. It is no longer so with the proliferation of illicit small arms.
Let us all join hands in fighting this menace lest our streets become too perilous to use or ply even in broad daylight. Reporting suspicious movements of weapons to the security agents would be a step in the right direction; and the time is now.