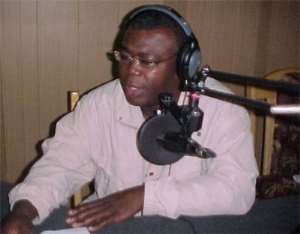 Ho, May 2, GNA - Mr Stephen Asamoah Boateng, a Deputy Information Minister, said the New Patriotic Party (NPP) government was making the expected social, economic, political and physical impact in the Volta Region, which hitherto was considered a hostile terrain for the party. He said contrary to initial apprehension and pessimism, District Chief Executives in the region have gained confidence and with the co-operation of public and civil Servants in the region were working hard to solve problems facing the various districts.
Mr Boateng made the observations at a press soiree at Ho on Saturday, where he gave his impressions about the region after a weeklong duty tour.
He said: "At the beginning we asked the District Chief Executives not to go and talk politics with the people but to deliver the goals and show results and then half of the battle would have been won". Mr Boateng said the people of the Volta Region were appreciative of what the government had achieved for them so far even though much more need to be done.
He said while it was difficult from the beginning to get people to become DCEs and parliamentary candidates for the NPP in the region, now there was a scramble for such positions because the party has become attractive to the people.
Mr Boateng said:" I may be too optimistic but let's continue to work hard, deliver the goals. We will win but as democrats we wont be there always, so let's leave a mark, let's work as if it's our last day in office".
He commended the people for attaining unity in diversity, which according to him gave hope that the country was moving forward. Mr Boateng urged the media to be careful about their political reportage, especially during the electioneering campaign to the 2004 Elections, when politicians would resort to various strategies to gain popularity over their opponents even within political parties.
He urged media personnel to exercise self-regulation over each other by commending colleagues who would perform professionally and to criticise and caution those who would work unethically.
Mr Boateng said the media should focus on issues and not to engage in personality attack since politicians and people in political office also have their private lives to live, provided these do not affect the performance of their official functions.
He, however, urged journalists to point out the mistakes of politician.