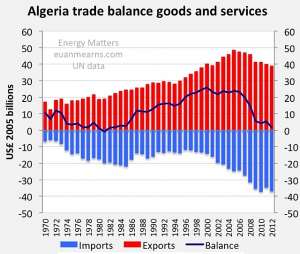 France Elected Bouteflika For 4th Presidential Term in Algeria
How a sick 77 years old Bouteflika won 4th term as Algerian president?
How Abdelaziz Bouteflika came to power?
Following Boumédienne's unexpected death in 1978, Bouteflika was seen as one of the two main candidates to succeed the powerful president. Bouteflika was thought to represent the party's "right wing" that was more open to economic reform and rapprochement with the West.
"It is consistency that is essential," he said in response to a question about stalled efforts on reaching an agreement for a "Treaty of Friendship" with France.
French-Algerian relations, which have been patchy since 1962, were lukewarm under Hollande's predecessor Nicolas Sarkozy, but economic ties always prevailed.
France is a leading exporter to Algeria behind Italy, the United States and Spain, while there are 450 French companies operating in Algeria, making Paris a significant non-oil investor.
In October, French Foreign Minister Laurent Fabius said that both countries wanted to reach an agreement on a "strategic partnership" during Hollande's visit.
In December 2012, President Abdelaziz Bouteflika told AFP in an exclusive interview that Algeria wants "strong and dynamic" relations with France, ahead of a visit to Algiers by French President Francois Hollande. In the early 1990s, nearly 20 percent of all Algerian exports and imports were destined for or originated from France. More than 1 million Algerians resided in France and there were numerous francophones in Algeria, creating a tremendous cultural overlap. French remained the language of instruction in most schools and the language used in more than two-thirds of all newspapers and periodicals and on numerous television programs.
In 1999, Zéroual unexpectedly stepped down and announced early elections. The reasons behind his decision remain unclear. France has played major role to buy the support of the army to bring Bouteflika to power and to keep him in the seat even after his very serious health problems. France is now pulling all strings in the Algerian theater.
Bouteflika appointed a new Prime Minister, Abdelaziz Belkhadem, in 2006. Belkhadem then announced plans to amend the Algerian Constitution to allow the President to run for office indefinitely and increase his powers.
Following the constitutional amendment allowing him to run for a third term, on 12 February 2009, Bouteflika announced his independent candidacy in the 2009 presidential election. On 10 April 2009, it was announced that Bouteflika had won the election with 90.24% of the vote, on a turnout of 74%, thereby obtaining a new five-year term. Several opposition parties had boycotted the election, with the opposition Socialist Forces Front citing a "tsunami of massive fraud."
Following yet another constitutional amendment, allowing him to run for a fourth term, President Abdelaziz Bouteflika announced that he would. He very seldom appeared in person on the campaign trail. On 18 April 2014, he was re-elected with 81% of the vote., while Benflis was second placed with 12.18%. The turnout was 51.7%, down from the 75% turnout in 2009. Again several opposition parties had boycotted the election, making allegations of fraud.
Constitutional Amendment seems to be the code name for French Order.
The 2010–12 Algerian protests was a continuing series of protests taking place throughout Algeria, which started on 28 December 2010.
Seventy percent of Algeria's population is less than 30 years old. Consequent high levels of youth unemployment, coupled with corruption and widespread poverty, are seen as reasons for dissatisfaction.
Prior to the outbreak of protests, in February 2008, United States Ambassador Robert Ford in leaked diplomatic cables called Algeria "an unhappy country", stating "There is much discussion among political circles about the constitution, the third term and the succession issue, but precious little discussion about how to address long-standing political alienation and social discontent throughout the country."