At least 58 killed in S.Sudan attack on UN base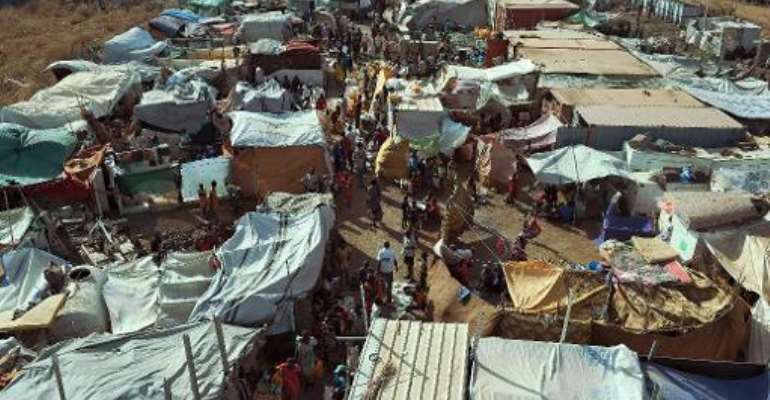 Juba (AFP) - The United Nations said Friday at least 58 people were killed and more than 100 others wounded in an attack against one of its bases in South Sudan sheltering thousands of civilians.
The top UN official in the war-torn nation, Toby Lanzer, praised peacekeepers from India, Nepal and South Korea for preventing what could have been a massacre of up to 5,000 people, and vowed the world body would use "lethal force" again to protect civilians under their protection.
"We will do everything necessary to protect the lives of people in our protection, including the use of lethal force," Lanzer told AFP.
In the clearest account yet of Thursday's incident in the government-controlled town of Bor, Lanzer described how a group of around 350 armed youths in civilian clothes "used extremely violent force to breach the perimeter" of the UN base.
He said they opened fire on terrified civilians, who have sought shelter with the UN from a wave of ethnic violence, with the apparent aim of killing as many people as possible.
"When we realised we were under attack we responded... the quick actions of the peacekeepers saved lives," Lanzer said.
"Forty-eight bodies, including children, women, men, have been recovered from inside the base. The bodies of 10 attackers have been found outside the base. The total death toll is 58, but that could increase as over 100 people were wounded, some of them very seriously," he said.
Lanzer said measures had been taken to boost security at other UN bases in the country, which are sheltering close to 60,000 people from different ethnic groups, and that the South Sudanese government was also being asked to ensure such attacks are not repeated.
- 'Going nowhere' -
"This past week has been the most bleak in South Sudan's history," Lanzer said, citing the attack on the UN base as well as reports of renewed atrocities further north in the oil-hub of Bentiu, which fell to rebel forces during the week.
He said South Sudan's conflict, which began on December 15 following a clash between army units loyal to President Salva Kiir and troops backing ousted vice president Riek Machar, had now descended into "a cycle of revenge".
"It's vital that all communities realise that they are taking this country nowhere fast," he said.
The UN's aid agency UNOCHA said it was "particularly outraged by deliberate and targeted killings of civilians in hospitals, churches, UN peacekeeping bases and other places where people's rights should be sacrosanct".
Most of the civilians hiding in the UN base in Bor are thought to be ethnic Nuer, the same tribe of Machar, who now leads a rebel force comprised of ethnic militia and army defectors. During the week the rebels captured the town of Bentiu, a key oil hub in the north.
Kiir, an ethnic Dinka, still controls the capital and maintains the loyalty of a large part of the army. He is also backed by troops from neighbouring Uganda.
The conflict in South Sudan, which only won independence from Sudan in 2011 and is the world's youngest nation, has left thousands dead and forced around a million people to flee their homes.
The fighting has been marked by reports and allegations of atrocities by both sides, with ethnic massacres, child soldier recruitment and patients raped and murdered in hospitals by attacking forces.
- Government blames UN -
Responding to the Bor attack, South Sudan's government signalled that its relations with the UN were deteriorating -- accusing peacekeepers of provoking demonstrators and sheltering rebel supporters.
"The UNMISS force shot bullets on air. Their shooting of bullets on air provoked the situation," Information Minister Michael Makuei Lueth told reporters, saying the youths were only going to the base to protest against displaced persons who were celebrating recent rebel advances.
Aside from the pressure of protecting and feeding tens of thousands of civilians, the UN and humanitarian aid agencies are also warning that more than one million people in South Sudan are at risk of famine.
The United States, which was instrumental in helping South Sudan gain independence from Khartoum, is also voicing increased concern.
The US ambassador to the UN, Samantha Power, urged countries that have committed additional forces to UNMISS to speed up their deployment, and said Washington will work with its allies to determine who was responsible for the "horrific attack" in Bor.
"This latest outrage against the people of South Sudan is an affront to the international community and violates fundamental principles of civilian protection," Power said, adding that UNMISS sites should be considered "inviolable".
A spokesman for UN chief Ban Ki-moon said the attack on the UN base was a "serious escalation" in the crisis and that "any attack on United Nations Peacekeepers is unacceptable and constitutes a war crime."
Earlier this week, rebel leader Machar told AFP he had set his sights on oil fields in the north and the capital Juba, and after the fall of Bentiu, government officials have reported more heavy fighting across the oil-rich Unity State.