World Reader Project Launched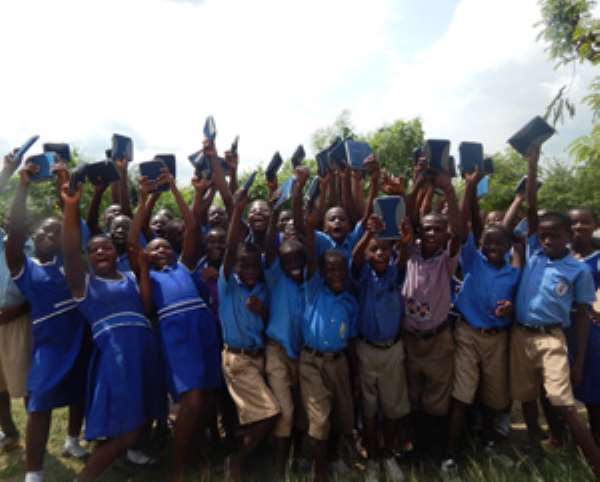 Jubilant kids during the launch
Jubilant kids during the launch
Worldreader, an international non-governmental organisation (NGO) operating from Ghana, has launched a project to enhance reading abilities among pupils of basic schools in four districts in the Eastern Region.
The project which is also referred to as 'iRead 2', is being introduced to 574 pupils in under resourced basic schools in four districts (Kade, Ayensuano, Suhum and Adeiso) in the Eastern Region.
According to the Development and Operations Manager of Worldreader, Samuel Alomenu, the project involves the organisation's field staff guiding pupils to download local or international-based story books (e-readers) onto their mobile phones.
Beneficiary pupils are further given a set of instructions on how to use their   downloaded materials in a number of ways which make reading exciting and pleasurable to them.
Mr Alomenu continued that 'the intervention makes reading convenient as pupils are fond of their mobile phones.'
He also said the project offers more than 140 titles made up of recommended textbooks and age and grade appropriate storybooks.
Mr Alomenu further said that special school management committees (SMC) made up of teachers, parents and other stakeholders; collaborate to support the iRead project in beneficiary schools.
He added that the SMCs and other parents from the participating communities have keenly supported the project by buying handsets for their children or sharing their phones with their children.
Worldreader was founded in 2010 with a core responsibility of using mobile phones as a learning methodology to enhance reading abilities in children.
The Founder of the organisation, David Risher, was happy that the organisation had over the years grown to expand into other African countries such as Rwanda, Tanzania, Malawi and Kenya.
He added that the organisation was in partnership with Nokia and United Nations Education Scientific and Cultural organisation(UNESCO) to promote the concept of mobile reading and also ensure that new tools  in the electronic technologies were used  to advance literacy and learning in countries that faced chronic book shortages.
He further said Worldreader had also partnered with the United Nations Refugee Agency (UNHCR) to deliver 30,000 e-readers to students and families in two refugee settlements in Western Tanzania.
Mr Risher was hopeful that e-reading programmes on iRead project 2 were inexpensive ways to eradicating illiteracy globally.
 
  By Solomon Ofori