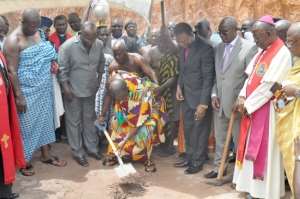 The Asantehene, Otumfuo Osei Tutu II, has cut the sod for the commencement of work on the construction of the first phase of a four-storey banking hall and office complex for the Kumasi Diocese of the Methodist Church at KO in Kumasi.
The GH¢6 million project being funded by the Kumasi Diocese of the church in partnership with some financial institutions in the region is aimed at redeveloping the KO lands to raise more revenue for the development of the church.
The other projects the church is undertaking include a hotel, a high-rise car park a shopping mall, a modern school complex and an apartment block for ministers.
Speaking at the sod-cutting ceremony, the Asantehene, Otumfuo Osei Tutu, lauded the foresight of the church in the area of infrastructural development all over the country.
He said over the years, the Methodist Church of Ghana had been the development partners in the areas of healthcare delivery, quality education and other social amenities, apart from evangelism and spiritual development of its members.
The Asantehene said the good moral training of the youth in Methodist institutions had brought positive transformation to the society and called for more efforts to promote good moral training and spiritual development among the youth.     
Advertisement
He said the church could not promote effective evangelism and other social needs of its members if it only depended on old traditions of revenue generation, and stressed the need for the church to find other avenues to generate income for the development of the church.
He called on the chiefs who were fighting churches over lands which were for spiritual development to desist from such acts and rather emulate their ancestors who offered lands for evangelism and spiritual development in the region.
The Asantehene assured the church of his commitment and support for the development of the projects to boost commercial activities in the area.              
The Presiding Bishop of the Methodist Church, Ghana, Most Rev. Prof. Emmanuel K. Asante, said the church was not only concerned with the evangelism and spiritual development of its members, but was also concerned about finding other avenues of revenue generation for the development and improvement of the church.
He said the church needed to move forward by modernising its infrastructure and its heritage for generations to come.
The Methodist Bishop of the Kumasi Diocese, Rt Rev. Prof. Osei Sarfo Kantanka, said the projects formed part of efforts of the church to redevelop to meet contemporary needs and aspirations of the church, which had been a partner in development over the years, to complement the efforts of the city authorities by redeveloping the K. O. lands. 
He said the projects were being funded by the church through special contributions and levies, adding that the church had raised about GH¢500,000 for the commencement of the project.