'Help develop self-motivated human resource'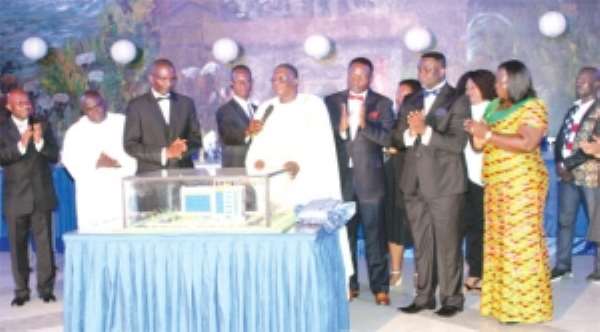 Vice-President Paa Kwesi Amissah-Arthur  has called on Human Resource (HR) practitioners in the country to develop a self-motivated human resource base to achieve productive employment and decent work for all by 2015.
"The significance of human resource development in Ghana today, as a factor in the overall national development agenda, cannot be overlooked. A developed and self-motivated human resource base is extremely critical to achieving full and productive employment and decent work for all," he said.
The Vice-President made the call in a speech read on his behalf by the Minister of Employment and Labour Relations, Nii Armah Ashietey, at the launch of the HR Complex project and investiture of the National Governing Council of the Institute of Human Resource Management Practitioners, Ghana (IHRMP) in Accra last Saturday.
The event, which was on the theme, "The relevance of human resource development to national development", marked the induction of newly elected IHRMP executives, as well as the presentation of the institute's first programme on its 2014 calendar, which is to put up an ultra-modern complex for HR practitioners behind the Trade Fair Centre in Accra.
An HR management consultant and Executive Director of ILO-SCORE Training Solutions, Ghana, Mr John Wilson, was sworn in as the new President of the National Governing Council of the IHRMP with Mr Andy Osei Okrah, the HR Director at the Forestry Commission, as the Vice-President. 
Other executive members of the council are Mr George Anto-Boateng, Mrs Nana Yaa Twum, Dr Edward Kwapong, Mr Leonard Quarcoopome, Mr Samuel O. Asiedu and Mr Ebenezer Agbettor, who is the Executive Director of the institute. IHRMP 
The Vice-President said the IHRMP was a key partner in the task of investing in people through talent development and performance monitoring as a way of increasing productivity in the country.
He said it was, therefore, necessary for the IHRMP to provide leadership in creating specialists in human resource development to help produce quality human resource who could positively contribute to economic growth.
He commended the newly elected executives and charged them to sustain the momentum of work by their predecessors. New President
Mr Wilson expressed gratitude for the confidence and trust the members had reposed in him and pledged to deliver as expected of him.
He promised that within its two-year tenure, the executive would increase the membership of the institute.
That, he explained, would ensure the IHRMP's ability to service professional HR needs across the country.
"We need to be more visible than we have been, so we can spread our influence and become the preferred institute," he said.
Mr Wilson said there was the need to improve the skills of members and ensure that they acquired the right training and development programmes to enable them to improve on their capabilities.