Tema Chemicals To Sack 400 Employees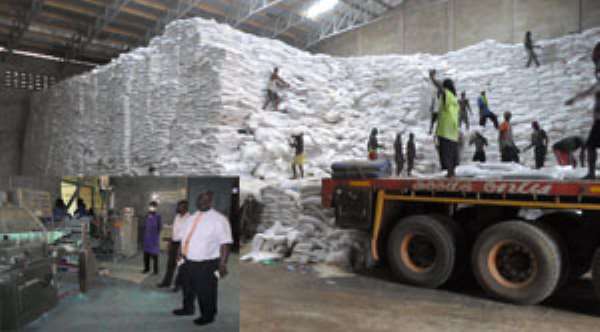 Workers busily loading trucks with fertilizer at Tema Chemical Warehouse, inset. Some officials including Mr Prince Agyemang Yeboah explain issues to GNA
Tema Chemicals Limited and its parent company, Chemico Limited have indicated their intention to lay-off about 400 workers by the end of March 2014.
'The lay-off of workers is due to the drastic reduction in business and insufficient support from the state agencies that purchase agricultural inputs and distribute to farmers under various subsidized schemes,' Prince Agyemang Yeboah, Chemico Sales and Marketing Director told the Ghana News Agency (GNA) during a tour of the two companies at the weekend.
The tour was to find out how manufacturing companies in the Port City of Tema were adjusting to the recently announced Bank of Ghana (BoG) regulations to stabilize the Cedi.
Tema Chemicals Limited is a joint venture between Chemico Limited and Ghana Cocoa board (Cocobod), 51 and 49 per cent equity respectively.
'For most of the time, we are treated second best to our competitors in the allocation of orders although their products have no local content and are not of superior quality.
'Products from the company has consistently been given not more than 25 per cent of the share of the cocoa insecticide purchased by Ghana Cocobod from a list of three products.
'Based solely on Ghana Cocobod's advertised policy of resistance management, at least 50 per cent of the insecticide requirements should be made of the product from Tema Chemicals.
'Our equipment for formulation and packaging of insecticides, fungicides and fertilizers are under-utilized about 15 per cent of their capacities. This is criminal and very grave wastage of assets not only for the companies but for Ghana,' Mr Agyemang Yeboah noted.
Mr Agyemang Yebaoh explained that there is an additional financial burden due to delayed payment for supplies.
The management of the two companies also expressed concern about the lack of incentives for the indigenously groomed company, which has strong linkages to other manufacturers, especially in the packaging industries.
'Domestic preference should not be a policy reserved only for the oil and gas sector but must be extended to all establishments which add significant value to their operations in the Ghanaian economy,' Mr Agyemang Yeboah asserted.
He said the company had appealed to the Government and other state institutions through the executives of the Chemicals sub-sector of the Association of Ghana Industries (AGI) to extend the local content policy to companies who add significant local value to their products.
He noted that the lack of orders would mean that "our ability to continue to offer input credit, technical training and extension service to farmers would be severely compromised.
There is no doubt regarding the cost to the economy if Ministry of Food and Agriculture and Cocobod do not increase the dwindling share of these local manufacturing companies.
'We would be forced to go the way of our competitors by closing down our local processing and arrange for our products to be supplied in fully packaged form by overseas manufacturers,' he said.
During the tour, GNA observed that fertilizer blending and bagging plant and the modern insecticide and fungicide plants had been wrapped in protective polythene sheets.
Rolls of printed materials to be converted into sachets of Fungikill and Champion fungicides, as well as labels and bottles for packaging Akatemaster insecticides, were neatly packed in the otherwise empty warehouses.
Chemico Limited and Tema Chemicals Limited were both incorporated in 1976 as a result of the investment policy decree, which was aimed at putting the "commanding heights of the economy into the hands of Ghanaians.'
 
GNA