Relocation of utilities causes traffic jam at Kwame Nkrumah Circle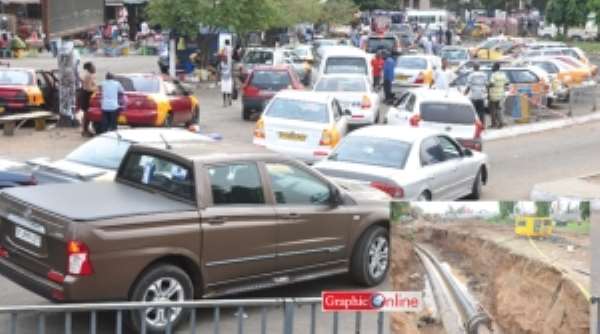 The diversion of some roads at the Kwame Nkrumah Circle in Accra  to make way for the interchange has created traffic jams on roads leading to the Circle. 
The otherwise 30-minute drive from Achimota to the Kwame Nkrumah Circle on working days took more than one hour for commuters and motorists Monday.
The relocation
The traffic was as a result of the relocation of pipelines to pave the way for the construction of the interchange.
The relocation works involved digging the ground to locate the pipelines for readjustment.
That led to the diversion of traffic from the Mr Biggs Restaurant to the circle onto one of the two lanes leading to the central business district (CBD) of Accra.
Motorists moving from Accra to the circle had to use the diversion from Mr Biggs through to the Adabraka Taxi Rank or turn left before the restaurant to join one of the lanes which lead to Accra from the roundabout.
The evening situation
In the evening, the traffic situation was the same when the Daily Graphic visited the  circle to observe the situation.
Traffic was so heavy that vehicles moved at a snail's pace, especially for motorists moving from Adabraka towards the circle.
The situation compelled commuters to get down and walk, instead of sitting in the vehicles for hours.
Officials speak
An official of the contractor working on the project, Mr Baba Mohammed, explained that they were speeding up work to open the road for use by 6 p.m. yesterday.
However, he said there was still work to be done on the relocation of the lines and, therefore, there would be other diversions.
Background
Construction work on the three-tier interchange at the Kwame Nkrumah Circle began in September 2013. 
The Kwame Nkrumah Circle is a key intersection in the arterial road network in Accra which carries about 84,000 vehicles a day.
The circle constitutes a key bottleneck in the major road network that links the suburban areas of Accra to the central business district of Accra.
The project, funded with a loan from the Brazilian government, is being executed by Queiroz Galvao, a Brazilian company, at an estimated cost of 74 million euros.