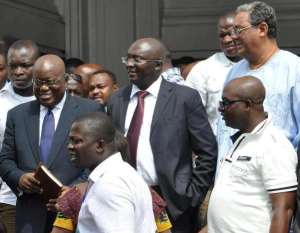 It is agreed amongst most Ghanaians that the 2016 general elections as most people would be one of the toughest the NPP would ever face. And I dare say, even tougher than 2000. The Ghanaian populace is wailing for change; change that would move the country forward in the right direction. Come March 1st, 2014, members of the New Patriotic Party contesting for National Executive positions would know their fates. In the words of Justice Atuguba "they will know their real size".
The other positions may be fierce but I find fascinating and intriguing, the race for General Secretary. Amongst those vying for the GS position is Mr. Kwabena Agyepong, who is not new to Party members, having served diligently as the Press Secretary to the former president, H.E. J.A. Kufuor.
Kwabena's accolades precede him. However, he competes against really tougher opposition from the incumbent, Kwabena Owusu Afriyie (aka Sir John), the legal brain and excellent communicator, Yaw Buaben Asamoah, and the evergreen Captain Nkrabeah Effah-Darteh.
Unshaken by his competition, Kwabena has been touring around the country rallying the delegates to his side. He recently visited the three northern Regions as well as the Volta Region. Most of these delegates have already made up their minds as to who they would vote for come March 1st. Some believe that the current crop of national executives are perfect and must not be changed whilst others believe otherwise. Their thumbs would make the leaders on polling day.
In any event, it is believed that Kwabena's journey to the north and to the Volta Region was to sway the candidates for regional executives, having come to the realization that a majority of the delegates are against his candidacy. Most of them are of the view that the incumbent should be retained because he is the kind of General Secretary to match the NDC boot for boot.
I strongly believe the incumbent General Secretary, Sir John, will definitely pull a surprise. He is known for his confidence, wits and readiness to deliver. He has shown this in his first tenure. But these same qualities also throw people off. He is often described as arrogant, loud mouthed, and a loose talker. People cite the example of his summoning before the Supreme Court during the 2012 election petition. "It could have easily been avoided" they say.
Kwabena's announcement however received massive endorsement from the youth, who believe the race is rather between him and YB. According to young members of the Party, Kwabena and YB will bring on new ideas to capture votes in 2016. That is what is needed, someone with the unifying face, who would sway floating voters to the Party.

All that most NPP members are looking forward to is unity after all the internal elections have been held. It is only with a united front as well as selflessness and sacrifice that can win power come 2016.
Written by Edem Suleman
[email protected]