21 January 2014
|
General News
CSIR organises workshop on performance for directors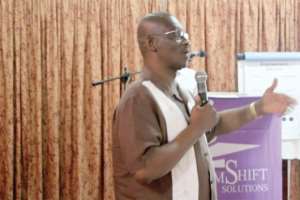 The Council for Scientific and Industrial Research (CSIR) has organised a workshop on leadership and high performance at the workplace for directors and potential leaders at the institution.
The three-day workshop was facilitated by Quantum Shift Coaching Solutions. It drew 22 participants, made up of directors, deputies, potential directors, senior scientists and administrators from the 13 research institutes of the CSIR. The workshop focused on 'emotional intelligence' and its impact on high performance leadership.
The Head of the CSIR, Dr A.B Salifu, said at the opening session of the workshop that leadership roles came with huge responsibilities and challenges that required aspiring leaders to be fully prepared to face them head-on. 
"It is for this reason that a well-designed programme such as 'Emotional Intelligence and High Performance Leadership' is so critical, especially for future leaders of the council," he emphasised.
Dr Salifu urged the participants to open themselves up to absorb the modules that had been tailor-made to their peculiar needs to ensure that the training had a direct impact on their respective roles at the council. 
The head of the CSIR also paid glowing tribute to Quantum Shift Coaching Solutions, saying "after sitting in a session, I have no regrets whatsoever that I approved this training with Quantum Shift Coaching Solutions."
The CSIR, on a yearly basis, identifies and promotes deserving researchers to occupy vacant managerial roles. It has, therefore, acknowledged that improving their emotional intelligence and skills required for high performance leadership was very vital to the overall progress of the CSIR.
Quantum Shift Coaching Solutions got the nod to train the researchers at CSIR after delivering a tailor-made course that seeks to help researchers moving from mere managers to high-performance leaders in their respective institutes. 
Quantum Shift's speciality in personal and corporate transformation has resulted in high pay-offs in its vision of changing the realities of people by touching their core thoughts and beliefs.
The company employs seminars, workshops, open fora, events, business coaching and personal development as tools to effect the desired transformation.