January 3, 2014
|
General News
Bible translated into more languages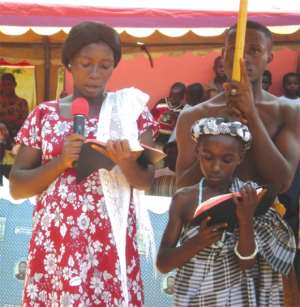 The Ghana Institute of Linguistic, Literacy and Bible Translation (GILLBT) a non-profit organisation, has said it is committed to spread ing the Gospel in the country through the translation of the Bible into local languages.
The GILLBT, which translates bibles into minor languages, has, since its inception in  the 1960s, translated 29 New Testaments of the Bible into local languages.
It is estimated that there are about 60 language groups and dialects in the country and the minority languages are spoken by a population of about 50,000.
The languages translated include Bimoma, Kokomba and Tanpruma, which were spoken in the Northern Region, Ntchumuru spoken in the Brong Ahafo region and Frafra spoken in the Upper East regions. 
Furthermore, four additional translations into Nafana (Brong Ahafo), Sisala (Upper West Region) Kasim (Upper West Region) and Lelemi (Volta Region) will be dedicated in 2014.
Challenges 
A Translator and Comprehensive Planning Coordinator of GILLBT, Mr Sylvester Kwame Nkrumah, said the main challenge of the organisation was  funding.
He, therefore, called on the public, churches and companies to support the effort of GILLBT to get the Gospel to as many Ghanaians as possible.  
Mr Nkrumah explained that the Bible translation process started with the teaching of the people in the community to be literate in their mother tongue.
As part of the Bible translation process, he said, teaching aids were also developed to facilitate the teaching of the local people to read and write their native language.
The total cost for the production of a full Bible is about $500, 000 but most of the costs are unpaid for as a result of voluntary work by the missionaries.
Currently, he said, more than 90 per cent of the organisations funding sources were from outside Ghana, with local churches contributing less than 10 per cent. 
Processes and Accuracy 
Another translator, Naana Nkrumah, explained that finding the right equivalence in bible translation was a major challenge and that a lot of research was carried out while in some cases the consultants were required to import items "so the people could have a picture of the exact thing being talked about for better translation."
For accuracy, she said, each Bible passage was taken through 12 steps. "The script is checked by consultants and they compare the Greek and Hebrew with what has been translated to ensure that by the time it reaches the final stage the meaning is not lost."