Egypt's bitter politics spill onto the sports field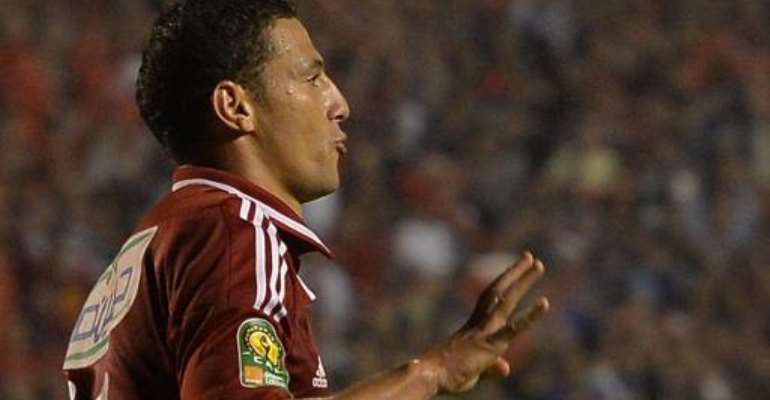 Cairo (AFP) - The banning of two athletes for on-field displays of sympathy with outlawed Islamists has seen Egypt's bitter politics cast a shadow over sport -- and not for the first time.
Al-Ahly football club banned its forward Ahmed Abdel Zaher from next month's FIFA Club World Cup and intends to sell him over a goal celebration last week that sympathised with supporters of Islamist president Mohamed Morsi, deposed by the military in July.
Abdel Zaher, 28, held up four fingers in a sign called Rabaa (fourth) in Arabic after scoring a goal against Orlando Pirates of South Africa in African Champions League finals, which Al-Ahly won.
The symbol was adopted by Islamists who camped out for weeks in Cairo's Rabaa al-Adawiya Square to protest the army's ouster of Morsi before security forces moved in to disperse them on August 14.
Hundreds of people, mainly Morsi supporters, were killed.
Al-Ahly also fined its prized footballer and known Morsi sympathiser Mohamed Aboutrika for failing to show up at the medals ceremony after the match.
The decision came after Egypt's Kung Fu body banned Mohamed Youssef for two years for wearing a shirt bearing the Rabaa sign while accepting his gold medal in a tournament in Russia last month.
The suspension "constitutes part of an autocratic regime's efforts to control all public space," James Dorsey, an expert on Middle East soccer and senior fellow at the Singapore-based S. Rajaratnam School of International Studies, told AFP.
"(Abdel) Zaher's suspension moreover highlights the inextricable relationship between sports and politics that both government and sports bodies deny."
When Al-Ahly suspended Abdel Zaher, Egypt's interim minister of state for sport Taher Abu Zeid had urged that he be banned for two years, the "way Kung Fu fighter Mohamed Youssef was."
Egypt has become deeply polarised since Morsi, the country's first freely elected president, was ousted by the military amid massive protests against his turbulent one-year rule.
"There is a complete media blackout when it comes to Islamist views...and anyone who expresses dissent is a potential threat," said Shadi Hamid, director of research at Brookings Doha Center.
"Banning players is a clear political decision."
Sport and politics: a toxic mix
Khaled Mortagy, a member of Al-Ahly's board, said it was the other way around -- that Abdel Zaher "broke a key principle of our club... of not mixing politics with sports."
"We have repeatedly warned players not to do this," he said, adding that the gesture could have led to a "huge catastrophe" as Al-Ahly has large numbers of supporters from both camps.
But politics has rarely been far from the playing field in Egypt, particularly when it comes to football, a national obsession.
"Players largely endorsed (toppled president Hosni) Mubarak because he showered them with gifts when they were victorious," said soccer expert Dorsey.
"It was Mubarak's way of associating himself with Egypt's most popular form of popular culture in the hope that some of the game's glory would counter his increasingly tarnished image."
However, it was the "Ultras" -- notoriously rowdy fans of Al-Ahly -- who played a crucial role in toppling Mubarak during the 2011 uprising.
They also protested against the military junta that ruled Egypt between Mubarak's overthrow and Morsi's election in June 2012.
In February 2012 more than 70 people, mostly Ultras, were killed in clashes between fans of Al-Ahly and Al-Masry in Port Said, but the country's worst sport-related carnage was not overtly political.
But the political divisions were back on display when Egypt's national team was battered by Ghana last month in the first leg for a World Cup berth, with some Morsi supporters tweeting that Egypt's shattering 6-1 loss was a punishment for its new rulers.
The two teams meet again on Tuesday.
"If you don't want to mix sports and politics, you must have clear and established rules," said Hamid of Brookings.
But the authorities feel they can get away with anything, he said, "as they know the international community has largely backed off from what's happening" in Egypt.
Islamists are openly backing Abdel Zaher, with hundreds rallying outside his home after he was suspended.
But Al-Ahly insists the footballer is out.
"Abdel Zaher is a gentleman ... but we have decided he will not wear (the) Al-Ahly jersey, and this is not a political decision," said Mortagy.c