Black Stars Pink Sheets, Collation Forms And Player Verification, Order!!!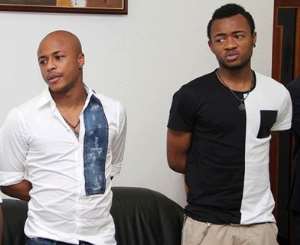 Dearest maniac chieftains and unrepentant 'Agoro Nana' adherents, who meditate night and day about how Ghana soccer can confound the whole world, greetings from Utopia, it's been ages since I warned all and sundry about how futile it was to trust Kojo Asamoah and Andre Ayew to win you a nations cup without Quincy Owusu Abeyie's abetment Yes before the2012 nations cup when I was vehemently trumpeting the virtues Quincy would bring on board, It was certainly swimming against the so called tide until Zambia gave us the reality check. I had no tears to shed 'koraa'.
Accomplished Ghana soccer addicts, a small stream had once again drowned Ghana, not a big river as the Gas would say. An African Cup winning opportunity gifted away, the trophyless drought rages further aggravating our hunger pangs. God so good, 12 months later a next competition to move the years to the odd side of numbering and I blow my trumpet again, 'the camel's hump is right where it is, it aint moved, the beating about the bush must stop, it's unpardonable to omit an Abeyie type calibre who told you that you were spoilt for choice?' Oh we have Adomah, Atsu, Wakasso, Kojo Asamoah, Sulley and Gyan. I even promised my pals that I'd sweep the F.A. office every morning for a year if these blokes could win the trophy without Quincy Owusu Abeyie's abetment. Look at Amoako swimming against the so called tide and once again proud Ghana was humiliated and we were made laughing stock with Solomon Asante and company supposed to be our saviours as Bourkina Faso exposed us so terribly.20 million people all howling 'we will win' in no way guarantees you a victory. TRUE OR FALSE?
The trouble with Black Stars is that if you aren't really and truly well versed in the game, you'll be swayed along to think they were true weapons of mass destruction. They have a very solid skeleton but lack the adequate polished stuff upfront and so they will chug along all the way through 4 games and always crumble in the 5th game which is the semi final and then all the so called Juventus top shots are virtually at sea. Can you imagine the Ouagadougou pito bars and national TV showing Bancy's disallowed goal over and over. as well as Pitroipa's unjust sending off and penalty denial, so outrageous was this that the dude's red card was overturned so he could play the final against Nigeria. What sin 'koraa' had we commited for the GREAT name of Ghana to be trifled with so? What crime had we commited to deserve such ignominy. For 2 hours human beings couldn't come out of their dressing room, and Metro TV had to be content with climbing the Bourkinabe bus for Bancy to 'rattle' us to smithereens.
The trophyless drought rages on unabated and as at now we're chugging along in the World Cup qualifiers but let me remind you that the Zambian match is match number 5 in the runnings and he who jokes with this game 'hath never forgineness'. We only realize Black Stars 'are pretenders to the crown' when the sword is deep in our bowels and we actually are surprised we are in death throes and die we must die.. I certainly had no tears to shed whatsoever. Was I not the one who spoke out for Asamoah Gyan in 2004 when your current captain was omitted by coach Arday in a crucial game? Gyan was featured by Doya in the next game and Kinshasa went under the cosh within12 minutes. I was writing for Weekly Spectator and God knows I was right. It's the same expertise I use in pushing it into your psyche that Owusu Abeyie is a gift of God unto us and if the situation is not rectified we'll surely stumble and fall for we'd be looking God straight in the eye and lying to HIM that Abeyie doesn't cut it. And who is deceiving Ghanaians that Kevin Prince is our light and salvation? Could he score the Germans or the Uruguayans in 2010? What Quincy can do Kevin cannot do. Can Kevin beat 4 and 5 players in a row with lighteng pace? Can Kevin run with the ball for 70metres on both flanks? Quincy is amongst the 10 fastest players in the world in a list containing these names, Walcott, Lennon, Quincy, Cee Ronaldo, Bale, Ilea, Cisse, Traore, Robben and Odonkor, which brings me from player verification to the matter of some pink sheets I'm tendering in evidence before precious Ghanaians. Every one say, 'Ghanaian boys, the best'. I hope I can through these pink sheets establish the need for really pacy lightening bolts in our team who will mesmerize all and sundry. Can Neimar run faster than Quincy? GH wake up and live!!!
These pink sheets were signed by 'The Ohene Djan' himself. BABA YARA - Greatest soccer genius of Ghana. Born 12th October1936 in Kumasi. Yara was a CHAMPION SPRINTER in an Arabic school. Signed for Asante Kotoko in 1955.That same year he hit the headlines. He made an impressive foray into the international scene - Yara wore jersey No.7 for Ghana's victorious team which annihilated Nigeria by 7 goals to nothing. Yara scored 2 and created 4 of the 7 goals. Capped 49 times Yara , whose ORIGINALITY and DEXTERITY on the soccer field were a delightful spectacle, scored 51 GOALS for Ghana. A NATURAL FOOTBALLER, Yara abhorred orthodoxy and believed that a coach's primary duty like the music master, was to teach the students the notes and that the students own ingenuity and creativity should enable him make melodious music with the, do, ray,me,fa,,so..The incomparable winger was twice voted the Footballer of the year and in 1961 won the highest soccer award of the state - the Most Distinguished Member of the Black Star group. His charming personality and affable character added to his DAZZLING football qualities made him the FOOTBALL HERO of his generation. Here was a FOOTBALL GENIUS, when cometh another? The Soccer 'Cathedral' in Kumasi is named in his honour - BABA YARA SPORTS STADIUM!!! I wish to tender in a few more pink sheets, thank you my lord, here we go.
MOHAMMED SALISU - FAST left winger and a difficult proposition to contain by defenders. Great scoring opportunist, Excels at scoring from acute angles. Plays for Asante Kotoko. A foundation member of the Black Star group.
FRANK ODOI - SPEED and INTELLIGENCE are his main assets. A NATURAL footballer, young talented Odoi is capable of playing all positions in the forward line. He is effective when scheming from the left wing, occasionally a scorer. He's the newest member of the group. He is tipped to be Salisu's successor. Plays for Accra Great Olympics. He got the match winning brace in the 96th min of extra time as Ghana defeated Tunisia 3 - 2 with Osei Kofi getting the 2nd goal. Odoi scored first in the 37th minute, the Hosts got the equalizer and went ahead in the 67th min before Osei Kofi drew us level in the 79th minute, He was so fast he was nicknamed VC 10 , after the aircraft popular with GH Airways at the time. The speedster won Ghana the 1965 nations cup. A true champion!!!
KWAME ADARKWA - Right Winger from Asante Kotoko, entertaining artist, midfield forager and goal-maker, his FLUSHY FORAYS on the right wing are a pleasure to watch. Small in size QUICK IN ACTION, Kwame is an unpleasant customer to big defence players. He's one of the 3 deputies of Baba Yara struggling for jersey No. 7 in the Black Star group..The next pink sheet has on it the name of Osei KofiI.OSEI KOFI - Young COLOURFUL player whose development into maturity appears to be delayed by EXCESSIVE CLOWNING. When serious, Osei CUTS TRIED DEFENCES INTO RIBBONS. Plays all positions from 7 to10. Plays for Asante Kotoko and was a useful inclusion for the Tokyo Olympics. He got the 2nd goal, the equalizer enroute to the 3-2 win over Tunisia to clinch the 1965 Nations Cup. A folk hero for real.The next Pink sheet bears the name OFEI DODOO and he is a foundation member of the Black Stars.
OFEI DODOO - FASTEST RIGHT WINGER IN GHANA'S FOOTBALL HISTORY, could be treacherous to slow moving defenders, his centres are useful and often yield rich dividends. Now I have here a report from the Africa Cup final of 1963 when Ghana met Sudan in Accra from a March1964 Drum Magazine feature. I quote - 'It was when Ofei Dodoo came to replace Corporal Acquah in the 2nd half that Ghana really got to her toes. THE MUCH NEEDED SPEED WHICH THE GHANA FORWARDS LACKED WAS NOW BEING SUPPLIED'. We got a penalty which Aggrey Fynn slotted. ' Ofei Dodoo was playing wonderfully at this stage and put Adarkwa through with a high one. Kwame jumped up and headed the ball - but that stalwart oak in the Sudanese goal didn't allow it to go in. Ofei again got the ball AND WENT FORWARD WITH IT, BEATING A MAN HERE AND A MAN THERE,TACKLED,YET SURVIVING, CAT LIKE, INTELLIGENT, AND MOVING VERY FAST INDEED, THEN HE TURNED ROUND SUDDENLY AND SWUNG THE BALL TO EDWARD ACQUAH. IT WAS A PERFECT PASS AND KOBINA WAS IN A PERFECT POSITION.HE PUT HIS FOOT TO IT AND WHAM!!! Sudanese 'keeper Sabit Dodoo had at last seen an ACQUAH SHOT. It sailed past him whilst he was still trying to synchronise the movement of his eyes with those of his arms. Ghana's talking drums throbbed but were drowned by the shouts of 30,000 people. The cup was coming closer and closer'. Unquote. That will be all for the pink sheets my Lord. My Lord here are the collation forms.
It is very obvious all our super duper demi- gods of the past were all extremely pacy fellas who had RAW SPEEB as their master key in addition to very high intelligence quotients Ii.e 'ball sense' as we say in GH. Owusu Abeyie can fit anywhere in the ancient list. For Christ's sake he's amongst the 10 fastest players in the world. WHO'S THE FASTEST PLAYER IN GH? WHO CAN HOLD UNTO THE BALL THE LONGEST WITHOUT BEING DISPOSESSED? WHO CAN RUN THE LONGEST DISTANCE WITH THE BALL AT HIS FEET? i.e 40 to70 metres with consummate ease. WHO SCORES MIND BOGGLING GOALS? e.g. ABEYIE'S 40 METRE RIP THROUGH DROGBA'S TROOPS. Remember his 88th min 30 yarder against Latvia in Kevin's debut game? He came on with13 minutes of playing time left and fetched us an 'individualistic goal'. Solo effort. We were a goal and a man down with Nigeria strangling us in Accra in a C.A.N.2008 quarter-final. Abeyie so out paced the Nigerians that we didn't feel disadvantaged and he released a world class backheeled through pass which Junior Agogo fluffed and the ROAR from the crowd hasn't been equaled since. MASTERS GAME AYA!!! Agogo had disgraced Quincy for had he netted it that clip would be on Sports Highlights permanently. Who beat 3 Nigerians on the inside left channel before floating that glorious glider which Essien soared and nodded in with the defence so mesmerized by Quincy they didn't even have time to jump, so unexpected was the glider,44th minute reprieve. ACCRA ROCKING!!! Essien is KING, COURTESY QUINCY! Surely this is our ace in the hole who can go outrageously solo, using that speed of his to perfect advantage WHICH WILL GET US OUT OF MANY A SCRAPE,NO DOUBT.
My Lord, we let the Amsterdam born super change nationality. Since that sinful omission from the Uruguay game, in which had Quincy partaken, we'd have won3-1 and proceeded to win the trophy to honour Mandela who'd invited us to his yard in anticipation of victory, we'd snubbed the youth. There was weeping and wailing and moaning and gnashing of teeth. Resist the blue print and MWEENE IS CATCHING OUR PENALTY and such curses. Bourkina Faso embarrassing us to the blues and such curses. Abeyie is signed and sealed from Heaven as a gift of God to Ghana.I met one Black Star player and said to him,'why you people dey snub Abeyie wey you dey suffer so? And the smart Alec asked me 'so you know'? Last November Abeyie made a press statement that he was expecting to be called up for the upcoming C.AN. 2013 , but even if he's not called up, he'll continue to work hard to catch the coach's attention.
My Lord, have you seen an intelligent youth, who has been neglected as Highlife Ace Amakye Dede said recently when he put in a word for Quincy in GH SPORTS newspaper. Yes Amakye Dede said he doesn't understand why Quincy was 'neglected midstream despite making a huge impact in his first nations cup outing in2008.I think my brother Akwasi Appiah will consider my plea because Abeyie is a very good winger'. When some people were not called up for selection they wrote officially to withdraw their services to mother Ghana, whilst others withdrew for various reasons. Have we heard anything silly from the intelligent youth? If you're not intelligent you can't play soccer like Abeyie does and he it is who'll save us many blushes. When you take this case to Heaven, who deserves the instant call up? Abeyie is owed tons of Judgement Debts, and as for me my intelligence is insulted and I scoff at Black Stars for I don't get these kinds of things wrong, don't we far too often come back home crying to Mama? Perrennial underachievers we are known as and looking towards Rio we've got to stand tall.
Oh G.F.A. we no sabe Abeyie for any place wey 2008 you give us this toffee wey dey call am butter scotch wey it dey tin inside ,yes the toffee sweet well well.Then you take the butter scotch wey now ibe ginger tofeee and tom tom and black and white wey you dey give me wey you self sabe say you no fit chop dem kind toffee plenty koraa, your mouth go burn you. Go commot the butter scotch come mek we test Neimar and Ribery dems for Rio. Watch 'Ghanaian Player Quincy' as well as 'Messi versus Quincy' on YOU TUBE and see what'll make you flabbergasted as I no doubt am. Oh God please remove all demonic scales upon our authorities eyes that inspire wrong choices who only lead us to perdition and have mercy on GH soccer, for us to reach the full elasticity of our glorious potential, so help I JAH ALMIGHTY I. AMEN AND AMEN!!! God 'blesh' you all. Maximum respect lovely people!!! Thanks awefully.