'Akufo-Addo deserves Noble Peace Prize'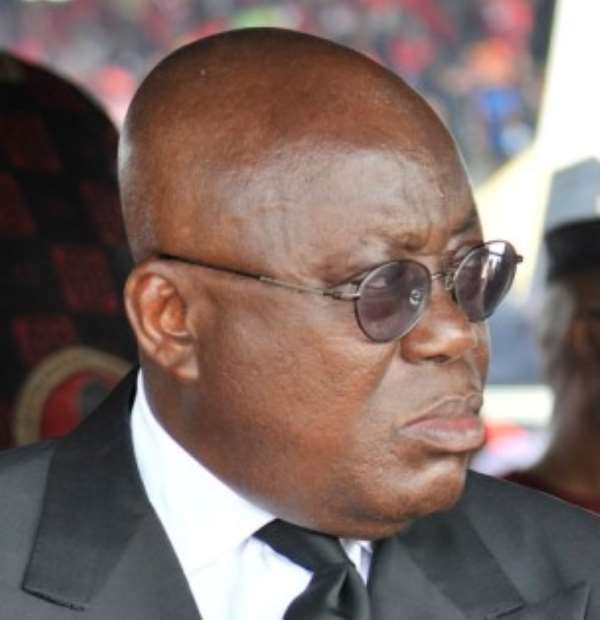 The Afigya Kwabre South Constituency Chairman of the New Patriotic Party (NPP), Mr Odeneho Kwaku Appiah, has said the 2012 Presidential Candidate of the NPP, Nana Addo Dankwa Akufo-Addo, deserves a Noble Peace Prize for seeking peace after the 2012 presidential election.
He said Akufo-Addo's penchant for peace and tranquillity to prevail in the country deserved applause.
He added that Nana Akufo-Addo's peaceful nature was amply demonstrated when, together with his running mate, Dr Mahamudu Bawumia, and the national Chairman of the NPP, Mr Jake Obetsebi Lamptey, he sought justice at the nation's Supreme Court rather than inciting his followers to cause genocide.
Mr Kwaku Appiah was speaking at an NPP prayer service organised at the Madonna Hall of Saint Mary's Sanctuary/GROTTO at Buoho in the Ashanti Region.
He further said that though the 2012 presidential election was monitored by the international community and other political watchers in neighbouring countries, the NPP's candidate could have resorted to violence, as had been the case in many African countries such as Cote d'Ivoire, Mali, Togo, Sudan, Liberia, Sierra Leone and DR Congo.
He praised Akufo-Addo for being a model of peace on both the local and global arena and asked all NPP members and their sympathisers to fast and pray for justice to prevail in the election petition hearing at the Supreme Court.
The Rector of the Buoho St Mary's Sanctuary, Rev. Fr. Clement Arthur Boachie, led the prayers and asked God to lead his people on a peaceful journey, that is, a peaceful Ghana after the court's verdict.
An Assistant Rector of the Sanctuary, Rev. Fr. Daniel Fosu, led prayers for a united security agency, most especially the military and the police, as 'we wait for the verdict from the Supreme Court'.
Mr Benjamin Owusu Nsiah, the Constituency Secretary, and Mr Issac Boakye of the Glory Salvation Church led prayers for all the nine justices of the Supreme Court.
By Joseph Kyei-Boateng/Daily Graphic/Ghana