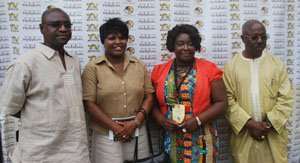 The Director of TV Africa, Kwaw Ansah has said that no one is born to be a criminal, a drug addict or to suffer some form of mental or physical ailments or to become a street child for which society brands as 'outcast'.
He said most of such people were the products of our environment, over which no individual had sufficient control.
Mr Ansah said this at the launch of a TV Africa's TV series dubbed 'My Life, My Story-Meda Dwen' which was held at the Network's Studio 'B' in Accra.
The Director whose speech touched the emotions of many of the guests said it was unfortunate that many social challenges in our communities had been erroneously attributed to destiny of victims, adding that knowingly or unknowingly, people who found themselves in such circumstances accepted their fate.
Mr Ansah further continued 'some prominent people today were involved in one form of the very mischiefs that have landed a number of our compatriots in their present predicaments; but we may have been fortunate to have better social circumstances that saved us from suffering similar fates'.
The Director expressed worry that Ghanaians had for a long time failed its weaker and vulnerable members of society who have fallen into such circumstances and found themselves in prison, drug rehabs and mental homes with others joining in the menace by the day.
He said the TV Africa series, 'My Life- My Story- Meda Dwen' has come as a challenge to the conscience of our society and authorities to reflect and accept such persons for counselling and rehabilitation and their proper integration into society.
The Rector of National Film and Television Institute, Prof Linus Abraham expressed appreciation for the launch of the TV series 'My Life-My Story-Meda Dwen 'as part of innovations for the Network's 10th anniversary celebrations.
The Rector challenged the Media to pay attention to stories that bothered on the vulnerable in the society, as well as paying attention to ethics and African values.
The Head of Marketing of TV Africa Network, Daniel Amartey- Armah, said the TV Series was intended to deter people from giving up on life and arouse corporate social responsibility to touch on lives or the less privilege of society.
He said the TV series was made up of 26 episodes that would be aired two times weekly to be run in seasons of 13 weeks.
By Solomon Ofori